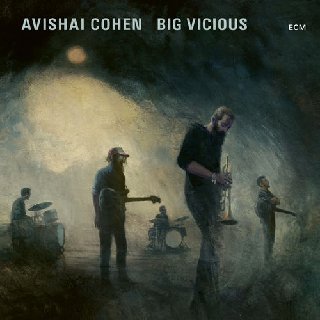 Charismatic trumpeter Avishai Cohen launched his homegrown band Big Vicious six years ago, after relocating from the US to his native Israel, rounding up friends to shape the music from the ground up.
Guitarist Uzi Ramirez, bassist Jonathan Albalak and drummer Aviv Cohen write much of the material together with Avishai. Ziv Ravitz, from Avishai's acoustic quartet, was recruited as second drummer a year ago. "We're all coming from jazz, but some of us left it earlier", Avishai says, summing up the stylistic reach of his cohorts. "Everyone's bringing in their backgrounds, and that becomes part of the sound of the band." Textures from electronica, ambient music and psychedelia are part of the blend, so too grooves and beats from rock, pop, trip-hop and more. A wide-open approach to cover versions from Massive Attack to Beethoven – is also integral to the Vicious vision.
Recorded in Studios La Buissonne in the South of France in August 2019 and produced by Manfred Eicher, Big Vicious's debut album is issued as the band gears up for extensive international touring, including Love Supreme in July.
Avishai Cohen (trumpet, electronics)
Uzi Ramirez Feinerman (guitar)
Jonathan Albalak (bass)
Aviv Cohen (drums)
Ziv Ravitz (drums, electronics)
Tracklist:
01 – Honey Fountain
02 – Hidden Chamber
03 – King Kutner
04 – Moonlight Sonata
05 – Fractals
06 – Teardrop
07 – The Things You Tell Me
08 – This Time It's Different
09 – Teno Neno
10 – The Cow & The Calf
11 – Intent
https://zenekucko.com/avicobivic
Találatok: 5