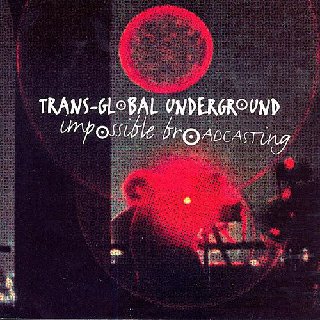 A Trans-Global Underground (vagy egyszerűen csak TGU) egy londoni székhelyű zenei együttes, ami a nyugati, keleti, valamint afrikai zenestílusok egyedi egyvelegét hozza létre számaiban. Egyedi stílusát néha "world fusion"-nek, illetve "etno-techno"-nak is nevezik.
Az együttes tagjainak zenei ízlésének, és változatos kulturális hátterének köszönhetően alakult ki ez az újfajta stílus. Jó pár éve egy Levi's reklám zenéjével ők alkották meg az akkor etno-technonak hívott irányzat első slágerét, és azóta nem nagyon bírtak hibázni. A Transglobal zenei stílusa tagjainak sokszínű zenei ízlésén és változatos kulturális hátterén alapszik. Ezt tükrözi a debütáló albumuk címe is: Dream of 100 Nations. Ezt követte az International Times, majd 1995-ben az Interplanetary Meltdown. A Transglobal Underground villámgyors hírnevet szerzett színpompás élő fellépéseivel, amelynek kellékei közé tartoztak a látványos színpadi kosztümök, a hastáncosok, és egy nepáli templomi őrség is. Népszerűségük ezen kívül Natacha Atlasnak is köszönhető, aki több évig énekesnőjük volt, és aki szólóalbumait is a TGU közreműködésével készítette. A Psychic Karaoke, legkifinomultabb albumuk 1996-ban jelent meg, majd az 1998-as Rejoice Rejoice, után egy kis szünet következett. 2004-es albumuk az Impossible Broadcasting.
Tuup – ének (3, 6, 10)
Sheema Mukherjee – szitár (basszusgitár 6)
Doreen Thobekile – vokál
Gurjit Sihra – dhol
Hami – dobok, szintetizátor, programozás
Tim Whelan – szintetizátor, programozás, (vokál 4)
Balogh Ferenc – ének (8)
Krupa Pattni – ének (6)
Jo Sax – bariton szaxofon (6)
Trio Bulgarka – ének (5, 11)
Tatapound – ének (7)
Tracklist:
01 – 7.5
02 – The Khaleegi Stomp
03 – The Sikhman And The Rasta
04 – Drinking In Gomorrah
05 – Isis K (feat. The Trio Bulgarka)
06 – Yellow And Black Taxi Cab
07 – Cikan – Le Message (feat. TataPound)
08 – Take The A Tram
09 – Radio Unfree Europe
10 – Sentinel
11 – Stoyane / Male-Le- (feat. The Trio Bulgarka)
12 – Vanilka
Külön köszönet TT_1-nek a lemezért és az eredeti feltöltésért!
https://zenekucko.com/tragloimbro
Találatok: 4