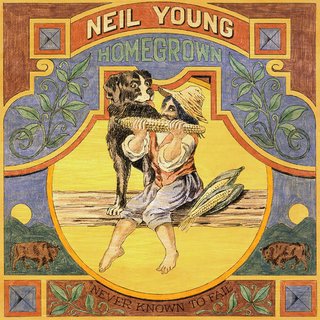 Újabb kincs került elő Neil Young archívumából. A világhírű kanadai-amerikai előadó 45 évvel a felvételek elkészülte után megjelentette eddig kiadatlan albumát, a Homegrown-t.
A Crosby, Stills, Nash & Young formáció mellett 1968 óta szólóban is dolgozó előadó hatodik saját stúdiólemezét készítette 1974-75 telén. A Homegrown című album el is készült, de barátja, a The Bandben játszó Rick Danko javaslatára Young inkább a már két éve fiókban lévő anyagát, a Tonight's the Nightot jelentette meg – a Homegrown szalagjai pedig a szekrénybe kerültek. Young a felvételek készítése előtt nem sokkal szakított akkori szerelmével, Carrie Snodgresszel, és ez rányomta a bélyegét az anyagra.
Bár összefüggő egészként elvetette a lemezt, dalait elő-elővette a következő években: öt (köztük a koncerteken is gyakran elhangzó címadó Homegrown) rákerült stúdiólemezekre (az American Stars 'N Barstól a Ragged Glory-ig), négy elvétve elhangzott Young fellépésein, három viszont (Florida, We Don't Smoke It Anymore, Vacancy) egészen 2020-ig talonban maradt.
Neil Young – guitar (1, 2, 5, 7-12), harmonica (1, 4, 7-12), piano (2, 3), wine glass (6), piano strings (6), narration (6), vocals (1-5, 7-12)
Ben Keith – pedal steel guitar (1, 2), lap slide guitar (5, 8, 10), dobro (12), wine glass (6), piano strings (6), narration (6), vocals (2, 8, 10, 12)
Tim Drummond – bass (1, 2, 4, 5, 8, 10, 12), vocals (8, 10)
Levon Helm – drums (1, 2)
Karl T. Himmel – drums (5, 8, 10, 12)
Robbie Robertson – guitar (9)
Emmylou Harris – backing vocals (2, 12)
Sandy Mazzeo – backing vocals (8)
Stan Szelest – piano (8), Wurlitzer piano (10)
Tracklist:
01 – Separate Ways
02 – Try
03 – Mexico
04 – Love Is A Rose
05 – Homegrown
06 – Florida
07 – Kansas
08 – We Don't Smoke It No More
09 – White Line
10 – Vacancy
11 – Little Wing
12 – Star Of Bethlehem
https://zenekucko.com/neyoho
Találatok: 32