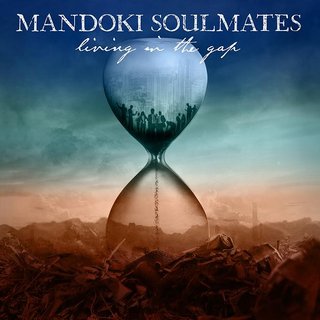 2019-ben jelent meg Leslie Mandoki legújabb albuma. A Living In The Gap + Hungarian Pictures címet viselő duplalemez megjelenését követően a zenész turnéra indult zenekara, a világhírű zenészekből álló Mandoki Soulmates kíséretében Németországban, majd Amerikában.
Az első lemez tizenkét dala nagy témákat dolgoz fel. Mandoki énekel a régi lázadókról, akiknek át kell adniuk a stafétabotot a fiatal lázadóknak. Énekel generációja mulasztásáról: nem sikerült átmenteniük a német újraegyesülés utáni eufóriát a jelenbe – írja az albumról online kiadásában a Focus című német lap, mely az év legfontosabb rockalbumának nevezi Mandoki lemezét.
A második lemez egyfajta "szerelmi vallomás a nagy magyar zeneszerzőhöz, Bartók Bélához és hazájához, Magyarországhoz". Itt a dzsessz-rock az uralkodó, egy hét részletben előadott, 45 perces, progresszív-rock-szvitről van szó – írja a lap.
A lemez motivációját Mandoki elmondása szerint részben a Fridays for Future demonstrációk adták.
A Mandoki Soulmates németországi koncertturnéja november 9-én, a berlini fal leomlásának évfordulóján ért véget.
"Budapesti születésűként természetesen nagyon boldog vagyok, amiért a magyarok ütötték ki az első téglákat a berlini falból. Németként pedig elmondhatatlanul hálás vagyok, hogy a fal egyetlen lövés nélkül és teljes békében omlott le" – fejtette ki a zenész a dpa német hírügynökségnek adott interjújában.
A Mandoki Soulmates tagjai mások mellett Al Di Meola gitáros, Ian Anderson fuvolás, a Jethro Tull frontembere, Randy Brecker trombitás, az énekesek között Bobby Kimball (ex-Toto) és Chris Thompson (Manfred Mann's Earth Band).
Tracklist:
CD1 – Living In The Gap:
01 – Living In The Gap
02 – Young Rebels
03 – Turn The Wind
04 – Where We Belong
05 – Let The Music Show You The Way
06 – Too Much Pride
07 – Old Rebels
08 – Welcome To Real Life
09 – Hottest Queen Of Cool
10 – Wake Up
11 – Mother Europe
12 – I'm Not Your Enemy
CD2 – Hungarian Pictures:
01 – Sessions In The Village
02 – Utopia For Realists
03 – Transylvanian Dances
04 – You'll Find Me In Your Mirror
05 – Return To Budapest
06 – Barbaro
07 – The Torch
https://zenekucko.com/masoligahupi
Ha kicsomagolásnál jelszót kér, írd be a Zenekucko szót a megfelelő helyre.
Találatok: 33