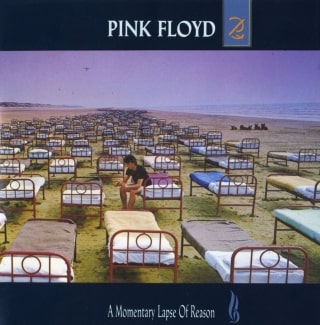 Az 1965–1996 között aktív cambridgei Pink Floyd az egyetemes rockzene egyik legfontosabb zenekara, a progresszív rock legendája. Roger Waters uralkodása az 1979-es The Wall és a sok tekintetben folytatásnak tekinthető 1983-as The Final Cut-al véget ért, 1985. decemberben kilépett. Közben még 1979-ben kilépett a csapatból a billentyűs Richard Wright is, aki a műfaj egyik legkreatívabb billentyűs alakjaként sokáig meghatározta a zenekar hangzását. David Gilmour és Nick Mason viszont tovább akarta vinni a nevet, amit hosszas pereskedés után meg is szereztek… Ez az elő-története ennek az albumnak, amivel elindult David Gilmour másféle utakat kereső uralkodása… Az A Momentary Lapse of Reason kapcsán fontos még megemlíteni Bob Ezrin nevét, aki a hetvenes éveket Alice Cooper mellett töltötte, majd később a KISS-ből és Peter Gabriel-ből is kihozta amit lehetett, a The Wall-nál érkezett a Pink Floyd mellé és ide és The Division Bell-re is a csapat mellett maradt David Gilmour producer társaként. Az A Momentary Lapse of Reason (és a The Division Bell is) úgy telepszik az ember fölé, mint egy monumentális gomolygó felhő, mint egy sötétben villódzó zenei folyam… Semmi köze a Roger Waters fémjelezte The Wall és The Final Cut féle komplex történet-mesélős világhoz, inkább egyfajta modernebb hangszerelésű és – a sok vendég szereplő miatt – komplexebb pop-felé nyitott zenét kapunk, ami talán a Wish You Were Here-hez és Animals-hez kapcsolható folytatásként, de egyértelműen és mindenben David Gilmour gondolkodásmódját és irányítását tükrözi… Az A Momentary Lapse of Reason-el (és a The Division Bell is) bizonyította David Gilmour, hogy lehetséges a Pink Floyd zenéjét úgy modernizálni, hogy megmaradjanak az értékei, de sokkal nyitottabb legyen a technológia fejlődésére. Az itt hallható, remekül sikerült 10 dalban teljes mértékben felhasználják a stúdió technika korabeli fejlettségét, amitől a dalok sokszor szintetikusabbak lettek, de az alaphangulat ugyanazt a monumentális nagyságot érezteti, amit a zenekar csak a legszebb pillanataiban tudott. Bár az album alapvetően lassú, néha vontatott zenét tartalmaz, egyetlen dal sem unalmas… Mindig és minden pillanatban megkapjuk azt a pluszt, amitől annak idején a Pink Floyd kiemelkedett a progresszív rock műfajból… Úgy lebegünk, úgy tanítanak minket lebegni, ahogy rajtuk kívül soha senki nem tudott korábban… Ennek az albumnak ez a lényege szerintem, ezért lett Roger Waters nélkül is zseniális a kiadott két stúdió album… amik mára legalább olyan kihagyhatatlan klasszikusok lettek, mint a The Wall vagy a The Dark Side of the Moon… (passzio.hu)
A zenészek: David Gilmour – ének, gitár, billentyűs hangszerek, sequencerek; Nick Mason – dob, percussion, dob-gép, hang effektek.
Közreműködött továbbá:
Richard Wright – billentyűs hangszere, vokál; Bob Ezrin – billentyűs hangszere, percussion, sequencerek; Tony Levin – basszusgitár, Chapman Stick; Jim Keltner – dob, percussion; Steve Forman – percussion; Jon Carin – billentyűs hangszerek; Tom Scott – alt és szoprán szaxofon; Scott Page – tenor szaxofon; Carmine Appice – dob; Patrick Leonard – szintetizátor; Bill Payne – Hammond orgona; Michael Landau – gitár; John Helliwell – szaxofon; Darlene Koldenhaven – vokál; Carmen Twillie – vokál; Phyllis St. James – vokál; Donnie Gerrard – vokál.
Tracklist:
01 – Signs Of Life
02 – Learning To Fly
03 – The Dogs Of War
04 – One Slip
05 – On The Turning Away
06 – Yet Another Movie / Round And Around
07 – A New Machine (Part 1)
08 – Terminal Frost
09 – A New Machine (Part 2)
10 – Sorrow
https://zenekucko.com/00394
Találatok: 20