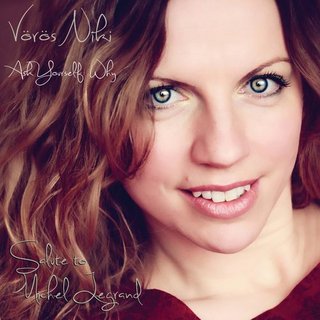 Vörös Niki Esztergomban született, jazz-ének tanulmányait a budapesti Erkel Ferenc Zeneiskolában kezdte Hunyadi László, és Halkovics Ágnes tanítványaként. Winand Gábor tanítványaként 2006-ban felvételt nyert a Liszt Ferenc Zeneművészeti Egyetem jazz-ének szakára. A paksi tehetségkutató fesztiválon 2007-ben és 2008-ban elnyerte a legjobb jazz-énekes díját. Kiemelkedő tanulmányi eredményeinek, zenekari munkájának, illetve pedagógiai törekvéseinek köszönhetően a 2009/2010-es tanévre köztársasági ösztöndíjban részesült. 2010-ben kiváló eredménnyel diplomázott Lakatos Ágnes, Holczer Irma, és Berki Tamás tanítványaként. 2005-ben, testvérével, Lászlóval közösen alapították meg a Vörös Niki Quartet-et, mellyel folyamatosan koncerteznek itthon és külföldön. Zenéjükben az autentikus jazzdalok és modern hangzású, kortárs jazz standard-ek egyaránt fellelhetőek. 2012 augusztusában megjelent debütáló lemezükön Michel Legrand francia zongorista, zeneszerző közismert dalait bújtatták "jazz köntösbe".
"Sokszor évekig keresünk valamit, és amikor rátalálunk, azt érezzük "de hiszen ez itt élt bennünk, végig velünk volt". Így voltam Legrand dalaival, úgy éreztem, ismerem mindet, a szívemből szólnak, ki tudom általuk fejezni önmagam. De a legfontosabb, hogy meg tudtam valósítani bennük a zenei gondolataimat anélkül, hogy kifordítottam volna önmagukból a dalokat. Csodálatos egymásra találás volt, izgalmas munka."
Vörös Niki – ének
Vörös László – zongora
Péterfi Attila – basszusgitár
Jeszenszky György – dob
Közreműködik:
Strausz Eszter – fuvola, szoprán szaxofon (3,4)
Kováts Gergő – tenor szaxofon (7,8)
Tracklist:
01 – I Will Wait for You
02 – The Windmills of Your Mind
03 – The Summer Knows
04 – Watch What Happens
05 – Once Upon a Summertime
06 – Sea and Sky
07 – His Eyes, Her Eyes
08 – Ask Yourself Why
https://zenekucko.com/vorniqayow
Ha kicsomagolásnál jelszót kér, írd be a Zenekucko szót a megfelelő helyre.
Találatok: 6