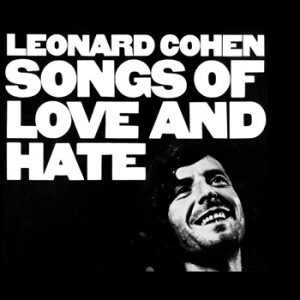 Az 1001 Albums You Must Hear Before You Die (1001 lemez, amit hallanod kell, mielőtt meghalsz) sorozat kétszázhoszonkilencedik (229) lemeze a kanadai Leonard Cohen harmadik nagylemeze.
Leonard Cohen (1934-2016) "Középosztálybeli, kanadai-zsidó családban született. Kilenc éves amikor apja meghal, így édesanyja az aki irodalmi próbálkozásaiban támogatja. Szabadelvű, intellektuális környezetéből hozza magával irodalmi műveltségét és mélységes szabadság szeretetét, valamint vonzalmát a miszticizmus iránt, mely dalaiban is oly gyakran megjelenik.
Tizenhárom éves amikor egy lány meghódításának reményében előszőr gitárt ragad, és technikai tudása hamarosan olyan szintű, hogy country zenészként felléphet kissebb lebujokban. Meg is alakítja Buckskin Boys nevű együttesét amely Montreál kávézóinak megszokott fellépőjévé válik. 17 évesen beiratkozik a McGill University-be, ahol hamarosan az egyetemi "bohémvilág" közkedvelt figurájává válik. Ebben a periódusban főleg költészettel foglalkozik és 1955-ben megjelenik első kötete a Let Us Compare Mythologies. A könyv nagyon meleg kritikai fogadtatásban részesül, de nem sokan vásárolják. Következő kötete 1961-ben jelenik meg The Spice Box Of Earth címen, és hatalmas nemzetközi sikert arat. Innentől kezdve Cohen a kanadai irodalmi élet egyik vezetúő figurája, akinek írásait megkülömböztetett figyelemmel kíséri a kritika. A könyv bevételeinek hála megengedhet magának egy világkörüli utazást és egy hosszab görögországi kitérőt. Ennek hozományaként 1963-ban mehjelenik A kedvenc játék című, magyarul is elérhető regénye melyet 1966-ban a Szépséges lúzerek követ. Ez utóbbi olyan sikeres lett, hogy Cohent a kritikusok már James Joyce-hoz hasonlítgatták. És ekkor, írói-költői pályafutásának delelőjén, hirtelen Nashvillbe költözött, a country zene mekkájába, hogy megkezdje énekesi-zeneszerzői karrierjét. Ekkor írt dalainak többségét Judy Collins vitte sikerre, köztük a késöbbiekben Cohen által is előadott Suzanne-t. Judy Collins volt az aki bátorította Cohent, ne csak dalokat írjon, adja is őket elő. Cohen első nyilvános fellépésére 1967-ben a newporti folk fesztiválon került sor, amit egy televizíós fellépés követett a CBS-nél. Ekkor fedezi fel John Hammond, a híres producer aki leszerződteti a Columbia lemeztársasághoz. Songs Of Leonard Cohen címen 1968-ban kerül a piacra első nagylemeze, mely intellektuális szövegei ellenére nem várt sikert arat. A kritika Cohenben vélte felfedezni azt az előadót aki betölti a Bob Dylan és Paul Simon között tátongó stílusbeli űrt.
Még ebben az évben kitüntetik a legrangosabb kanadai irodalmi díjjal, de Cohen életét ekkor kizárólag a zene tölti be. New Yorkban lakik a Chelsea Hotel-ben, szomszédja Janis Joplin akivel rövid de viharos szerelmi kapcsolatot folytat. Következő korongja a Songs From A Room, amelyen már teljes egészében kikristályosodik a Cohen-i stílús: sötét hangvételű, balladisztikus jellegű, félig mesélt, félig énekelt számok, összetett jelképeket használó poétikus szöveg és könnyen követhető nagyszerű dalamvezetés. Ennek a stílusnak a jegyében készült a Songs Of Love And Hate" is. (literatura.hu)
Harmadik albumának felvételein a következő zenészek közreműködtek: Leonard Cohen – acoustic guitar, vocals, Ron Cornelius – acoustic and electric guitars, Charlie Daniels – acoustic guitar, bass, fiddle, Elkin "Bubba" Fowler – acoustic guitar, banjo, bass; Bob Johnston – piano, production; Corlynn Hanney – vocals; Susan Mussmano – vocals;The Corona Academy, London – children's voices; ; Michael Sahl – strings on 3rd verse of "Last Year's Man"; Paul Buckmaster – string and horn arrangements, conductor.
A dalok:
1. "Avalanche" – 5:07
2. "Last Year's Man" – 6:02
3. "Dress Rehearsal Rag" – 6:12
4. "Diamonds in the Mine" – 3:52
5. "Love Calls You by Your Name" – 5:44
6. "Famous Blue Raincoat" – 5:15
7. "Sing Another Song, Boys" (live at the Isle of Wight Festival 30 August 1970) – 6:17
8. "Joan of Arc" – 6:29
9. "Dress Rehearsal Rag" (Early Version) Bonus Track
http://tinyurl.com/y98sd9ko
Találatok: 17