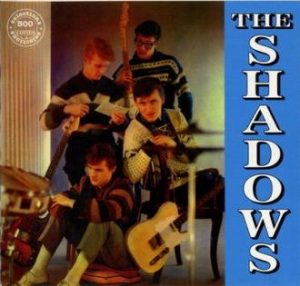 1958-ban Hank Marvin (1941) és Bruce Welch (1941) tagjai voltak Cliff Richard kísérőzenekarának a The Driftersnek. Következő évben a zenekar tagsága állandósult s miután az amerikai Drifters-szel névproblémák adódtak, felvették a The Shadows nevet.
Bár a hatvanas évek közepéig megmaradtak Cliff Richard kísérőzenekarának, a The Shadows 1959-től önálló instrumentális felvételeket is megjelentetett. Hank Marvin jellegzetes gitárjátéka önálló stílust alakított ki, s nemcsak Angliában de világszerte a kezdő zenekarok ezrei utánozták a Shadows által népszerűsített soundot. Ők lettek a "tiszta" gitárjátékra épülő zenekarok etalonja. Első sikerüket 1960-ban az Apache című dallal aratták, amelyet a következő években számos, azóta már klasszikussá vált dal követett. Az olyan számok mint az FBI, Frightened City, Kontiki, The Savage, Wonderful Land, Guitar Tango, Atlantis, Geronimo vagy éppenséggel a Theme For Young Lovers ma már a rock kincsesházának örökös lakói. (Kovács Miklós)
Ez volt az együttes első önálló nagylemeze.
A számok:
01. Shadoogie (Hank Marvin, Bruce Welch, Jet Harris, Tony Meehan)
02. Blue Star (Victor Young, Edward Heyman)
03. Nivram (Bruce Welch, Hank Marvin, Jet Harris)
04. Baby My Heart (Sonny Curtis) – (Vocal: Hank Marvin)
05. See You in My Drums (Tony Meehan) – Drum solo
06. All My Sorrows (Dave Guard, Bob Shane, Nick Reynolds) – (Vocal: Jet Harris)
07. Stand Up and Say That (Hank Marvin)
08. Gonzales (McGlynn alias Bruce Welch, Hank Marvin)
09. Find Me a Golden Street (Norman Petty)
10. Theme from a Filleted Place (Hank Marvin, Bruce Welch, Jet Harris)
11. That's My Desire (Helmy Krease, Carroll Loveday) – (Vocal: Bruce Welch)
12. My Resistance Is Low (Hoagy Carmichael)
13. Sleepwalk (Ann Farina, Santo Farina, Johnny Farina, Don Wolf)
14. Big Boy (Bruce Welch, Hank Marvin)
A Shadows: Hank Marvin – lead guitar, piano; Bruce Welch – rhythm guitar; Jet Harris – bass guitar; Tony Meehan – drums
+
Norrie Paramor – producer
Malcolm Addey – engineer
https://zenekucko.com/05108
Találatok: 10