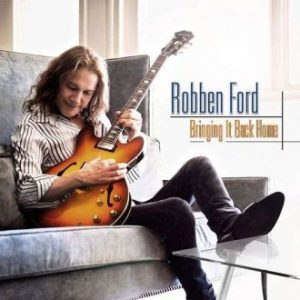 Robben Ford 1951. december 16-án született Woodlake-ben (California), majd szüleivel Ukiah-ba, (Ca) költöztek, mely 120 mérföldre van San Franciscótól. Apjának volt egy country bandája Wyomingban, Rocky Ford and the Tennesseeans néven. Három testvére közül kettő szintén muzsikus lett: Patrick dobos és Mark, aki harmónikás. Gyerekkorukban gyakran muzsikáltak együtt édesapjukkal, mely természetesen a Ford-testvérek számára meghatározó volt. 
Robben egy lemezboltban akadt össze először igazán a blues-zal, nevezetesen Paul Butterfield Blues Band egyik lemezét sikerült – szinte tévedésből – meghallania '65 körül. Robben Ford eredetileg szaxofonozni tanult, 10 éves korában került kapcsolatba ezzel a remek hangszerrel, melyet a mai napig – néha még koncerteken is – kézbe vesz. Tizenhárom éves korában, autodidakta módon elkezdett gitározni Mike Bloomfield, Otis Reading, Clapton, B.B. King és Aretha Franklin dalainak hatására.
Saját bevallása szerint Robben-re hatással voltak a nagy jazz szaxofonosok, például Coltrane, Wayne Shorter, Archie Shepp, Ornette Coleman. Nem szertett volna mást, mint hasonló dolgokat elkövetni gitáron, mint a fent említettek saját hangszerükön.
Robben Ford kreatív és nyitott egyénisége tükröződik egyedi gitározásában. Stílusa könnyen azonosítható, a kedvelők és a szakértők számára azonnal felismerhető technikája maradandó élményt nyújt, bármely korszakát is vizsgáljuk. Teszi mindezt a nagy elődök maximális tiszteletével, érkezzenek akár a jazzből, a bluesból vagy bármely más zenei műfajból. Robben Fordból mára már szintén "nagy előd" lett, sok ma kezdő gitáros tekinti példaképének – nem véletlenül. Megfelelő szelídséggel és alázattal közelít ahhoz a tényhez, hogy jelenleg a világ egyik leghíresebb gitárosa. Valószínűleg pontosan tudja, hogy e tulajdonság nélkül sosem válhatott volna azzá, akit most éppen Robben Fordnak ismer a világ zeneszerető közönsége. (rockbook.hu)
A zenészek: Robben Ford – guitar, vocal; Larry Goldings – Hammond B3; Harvey Mason – drums; David Pilch – bass; Stephen Baxter – trombone.
A számok:
01. Everything I Do Gonna Be Funky (Allen Toussaint) 4:55
02. Birds Nest Bound (Big Joe Williams) 5:51
03. Fair Child (Allen Toussaint) 4:24
04. Oh, Virginia (Robben Ford) 4:18
05. Slick Capers Blues (Charlie Doyle) 3:50
06. On That Morning (Traditional) 7:14
07. Traveler's Waltz (Anne Kerry Ford / Michael McDonald) 3:34
08. Most Likely You Can Go Your Way and I'll Go Mine (Bob Dylan) 4:57
09. Trick Bag (Earl King) 4:06
10. Fool's Paradise (David Avid / Johnny Fuller / Bob Geddins) 5:37
https://zenekucko.com/04234
Találatok: 3