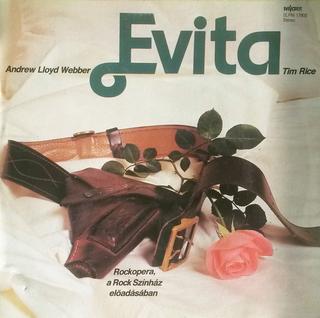 Az Evita Peron életéről szóló musicalt az akkor még alkalmi Rock Színház társulata 1980. augusztus 14.-én mutatta be. Az előadás hatalmas sikere adta az első lendületet a színház megalapításához. A darab először (és utoljára) 1986-ban jelent meg lemezen.

Evita – Kováts Kriszta
Che – Szakácsi Sándor
Peron – Harmath Albert
Magaldi – Szolnoki Tibor
Kirúgott szerető – Eszményi Viktória
Tracklist:
01 – Oh, milyen cirkusz (Oh What A Circus)
02 – Csillagfény tüzes éjjelén (On This Night Of A Thousand Stars
03 – Buenos Aires
04 – Jó éjt, ez szép volt (Goodnight And Thank You)
05 – Egy másik bőrönd (Another Suitcase)
06 – Átkozott nő (Peron's Latest Flame)
07 – Egy új Argentína (A New Argentina)
08 – Miért is siratsz Argentína (Don't Cry For Me Argentina)
09 – Szállj, rajongva szállj (High, Flying Adored)
10 – Gurul a pénz (And The Money Kept Rolling In)
11 – Éva és Che keringője (Waltz For Eva And Che)
12 – Panasz (Lament)
Köszönet györgy72-nek a digitalizálásért és az eredeti feltöltésért!
https://zenekucko.com/werirevi
Ha kicsomagolásnál jelszót kér, írd be a Zenekucko szót a megfelelő helyre.
Találatok: 4