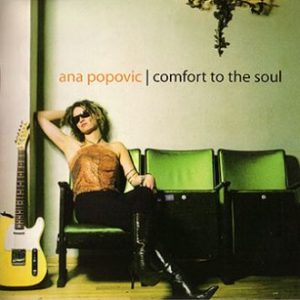 Ana Popovic 1976. május 13-án született Belgrádban. A kislány blues-kedvelő édesapja révén ismerkedett meg a stílussal. Ebben szerepe volt az otthoni lemezgyűjteménynek, ill. az atyai háznál alkalmanként összeröffenő zenekedvelő vendégseregnek is. Első zenekarát 19 évesen alapította, és egy éven belül már Jugoszlávián kívül is voltak fellépéseik, olyan blues-ikonokkal, mint pl. Junior Wells. 1990-ben Ana Hollandiába költözött, és jazz-gitár szakon kezdett el tanulni. Zenekarának, a Hushnak 1998-ban jelent meg debütáló albuma. Hamarosan ismert név lett Hollandiában és Németországban, sőt Magyarországon is fellépett. Manapság Ana Popovicot és 4 tagú bandáját a világ minden táján jegyzik, a jelentős fesztiválok állandó vendége Európában, az Egyesült Államokban és Kanadában.
Ana Popovic nem szűkölködik az elismerésekben, ebből néhány: 2002-ben a " Legjobb énekes", a "Legjobb gitáros" és a "Legjobb Album" díjat kapta a francia Blues Awards-on, 2003-ban jelölték a WC Handy-díjra az Egyesült Államokban. Ugyancsak 2003 – ban elnyerte a "Legjobb Blues Album" díját a Jammie Awards -on New Yorkban . 2006 – ban a "Legjobb Blues DVD (2005)" díját, a "Legjobb női blues-előadó" címet és a "Legkiválóbb zenész gitár kategóriában" elismerést kapta a "Living Blues Awards"-on. 2007 – ben jelölték a "Blues Artist of the Year" díjra az Egyesült Államokban, 2010 – ben pedig a "Legjobb Tengerentúli művész" címre a British Blues Awards-on.
Ana Popovic első 2 albumát a Ruf Records adta ki New Jersey-ben, olyan zenészek segítségével, mint Jim Gaines és David Z,. akik többek közt Stevie Ray Vaughan-nal, Santanával és Jonny Lang-gel is zenéltek. (blueskocsma.hu)
Ez a lemez volt a hölgy második önálló lemeze.
A számok:
01 Don´t Bear Down On Me (I´m Here To Steal The Show)
02 Love Me Again
03 Comfort To The Soul
04 Change My Mind
05 Sittin´On Top Of The World
06 Night By Night
07 Navajo Moon
08 Need All The Help I Can Get
09 Recall The Days
10 Fool Proof
11 Jaco
A zenészek: Ana Popović – vocals, guitar, rhythm guitar, slide guitar; Jack Holder – guitar, rhythm guitar; Dave Smith – bass; Steve Potts – drums;
Reece Wynans – Hammond (tracks 3, 6 & 9); Al Gamble – Hammond, keys (track 2); Susan Marshall – background vocals (tracks 2, 3, 6 & 10); Becky Russell – background vocals (track 3, 6 & 10); Lyn Jones – harmonica (tracks 8 & 10)
https://zenekucko.com/01926
Találatok: 2