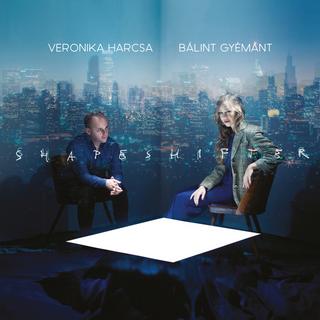 Harcsa Veronika és Gyémánt Bálint a történetmesélés mesterei. Szerethetőségük egyik titka, hogy hangzó történeteikre rendre rezonálnak hallgatóik. Mindketten bő évtizede a magyar jazzélet legmeghatározóbb művészei közé tartoznak, és külföldön is nagy elismertségnek örvendenek.
Legújabb lemezük címe, a Shapeshifter utalás arra, hogy a kelet-európai ritmikát a kortárs jazz dinamizmusával vegyítő, igéző dallamokkal és lebilincselő groove-okkal átszőtt zenéjüket az eredeti duófelálláshoz képest immár egy belga ritmusszekcióval kiegészülve rögzítették. A két virtuóz zenésztársat, Nicolas Thys bőgőst és Antoine Pierre dobost Harcsa Veronika brüsszeli tanulmányai során ismerte meg. Kreatív támogatásukkal a lemezen szereplő dalok még erősebb jelenléttel szólalhatnak meg – minden bizonnyal koncertkörülmények között is.
A zenék és szövegek nagy része ez alkalommal is Harcsa Veronika munkája. A dalok a jazz nyelvén mesélnek történeteket arról, milyen napjainkban fiatalnak és igazi páneurópainak lenni, hogyan lehet békére, boldogságra találni a zajos városok, az olcsó repülőjegyek és a közösségi média felgyorsult világban.
Harcsa Veronika – ének
Gyémánt Bálint – gitár
Nicolas Thys – nagybőgő
Antoine Pierre – dob
Tracklist:
01 – Listen to Me Now
02 – San Francisco
03 – First Night
04 – Second Night
05 – Last Night
06 – Serge With Holy Scar
07 – Shapeshifter
08 – Bori's Rebel
https://zenekucko.com/haversh
Ha kicsomagoláskor jelszót kér, írd be a Zenekucko szót a megfelelő helyre.
Találatok: 14