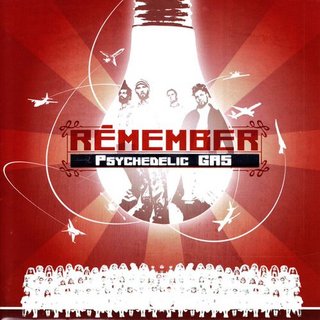 A Rémember munkásságának tíz éve nagyjából arról szólt, hogy a zenekar igyekezett az éppen aktuális nemzetközi zenei áramlatokat meglovagolni, és átemelni ezeket a hazai rockközegbe. Induláskor a "magyar Red Hot Chilli Peppers" címkét aggatták rájuk, később más hatások kerültek előtérbe, a hazai befutáshoz elengedhetetlen kompromisszum azonban nem köttetett meg: az együttes mindvégig ragaszkodott a külföldi vendégszerepléseknél kétség kívül előnyt jelentő angol nyelvű szövegekhez (csupán egy-két dalukhoz készült magyar változat is). A 2004-es Psychedelic GAS album produceri munkálataiba  Jamie Winchester segített be – az ő feladata volt, hogy az élő hangzáshoz közel álló végeredmény szülessen a stúdióban. A számok zömében ezúttal is hangsúlyos szerepet kapnak a különböző programozott effektek, de a végeredmény már egy igazi rockzenekart mutat. A modernségre való törekvés már nem annyira zavaró, inkább egyéni színezetet ad a produkciónak, így nem kell egyből azon gondolkodnunk, melyik divatos külföldi nu-metal zenekartól hallottunk a lemezen szereplő számokhoz hasonlót. Így végül pozitívan összegezhetünk: a rémek ezúttal már tehetségükhöz méltó, korrekt hangzóanyagot tettek le az asztalra. (A lemez megjelenése után a basszusgitáros Jero kilépett a zenekarból, a Rémember pedig úgy döntött, 2005-től inkább Londonba költözve keresi a kitörés lehetőségét.) ~ Bokor Péter (est.hu)
Tracklist:
01 – Pigriff
02 – Aliendirge
03 – Reeezon
04 – Debut of Dogs
05 – Bodyfarm
06 – I Am UD
07 – Carry Me Home
08 – Heavy Adult Song
09 – 1ce, 2ce
10 – Tired Man in Mecca
11 – My Head
12 – Psychedelic Gas
13 – I Can't Stop Bragging
https://zenekucko.com/repsyga
Ha kicsomagolásnál jelszót kér, írd be a Zenekucko szót a megfelelő helyre.
Találatok: 6