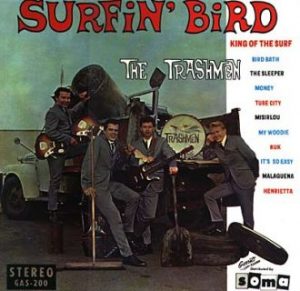 A kuckó régi látogatói valószínűleg már észlelték, hogy erősen kötődöm a múlt század hatvanas-hetvenes éveinek zenéjéhez.
Ez persze teljesen természetes, mivel az az idő volt eszmélésem, fiatalságom ideje. Ebben az időben, 1962-1967 között, a minnesotai Minneapolisban működött a Trashmen nevű zenekar is, amely egy 1963-ban megjelent kislemezének köszönhette világhírét. A lemezen hallható Surfin' Bird című dal tulajdonképpen az akkoriban az USA-ban népszerű két dal egyéni feldolgozásaként született.
A The Rivingtons The Bird's the Word és Papa-Oom-Mow-Mow című számainak ötletes egyesítésével a zenekar megalapozta sikerét.
Érdekes módon fennállásuk alatt mindössze egy nagylemezük és két kislemezük jelent meg. Hogy mit csináltak öt éven keresztül, nem tudom.
1989-ben a zenekar újra összeállt, és a mai napig zenélgetnek.
A számok:
1. Surfin' Bird
2. King Of The Surf
3. Henrietta
4. Miserlou
5. Malaguena
6. It's So Easy
7. Tube City
8. My Woodie
9. Bird Bath
10. Kuk
11. Money
12. Sleeper
BONUS TRACKS:
13. Surfin' Bird (demo version)
14. Bird Dance Beat (demo version)
15. Walkin' My Baby
16. Dancin' With Santa
https://zenekucko.com/05217
Találatok: 3