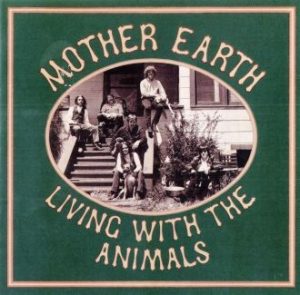 A Mother Earth nevű, különböző zenei stílusok elemeivel színesített blues-rock alapú zenét játszó zenekart Tracy Nelson (1944) énekesnő 1967-ben alapította San Franciscóban. Az együttes tagsága laza szerkezetű volt, létszámuk is rugalmasan változott, s néhány lemez után Tracy Nelson kísérőzenekaraként működött.
Első lemezük, az 1968-ban a Mercury Records gondozásában megjelent Living With he Animals felvételein a következő zenészek dolgoztak:
Makal Blumfeld (Mike Bloomfield), John Andrews – guitar; Bob Arthur – bass; Tracy Nelson – piano, vocals; Mark Naftalin – piano, organ; Barry Goldberg – organ; Jose Emilio Rodriquez III, George Rains – drums; Martin Fierro – tenor saxophone, alto saxophone, flute; Frank Morin – tenor saxophone; Link Davis Jr. – alto saxophone; Bob Salisbury, Ron Taormina – baritone saxophone; Louis Gasca – trumpet; Spencer Perskin – violin; R. Powell St John Jr – harmonica, vocals; The Earthettes (Shalimar Samuelson, Sylvia Caldwell, Losella Funque) – backing vocals.
A dalok:
A
01. Marvel Group (St. John)
02. Mother Earth (Memphis Slim)
03. I Did My Part (Neville)
04. Living with the Animals (St. John)
05. Down So Low (Nelson)
B
01. Cry On (Toussaint)
02. It Won't Be Long (McFarland)
03. My Love Will Never Die (Dixon)
04. Goodnight Nelda Grebe The Telephone Company Has Cut Us Off (Caldwell/Nelson)
05. The Kingdom of Heaven (Is Within You) (St. John)
https://zenekucko.com/05321
Találatok: 3