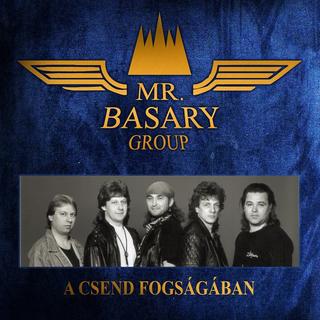 Vadonatúj kiadásban a HitRock, Kormorán hangjaként ismert Mr. Basary vezette Mr. Basary Group 1996-os debütáló albuma! Az idén 25 éves fennállását ünneplő csapat jubileumi turnéjára készült el a zenekar bemutatkozó – első kiadásakor, 1996-ban csak kazettán, kis példányszámban megjelent – anyagának újramaszterizált, felújított változata.
Az 1991-ben Babári József, ismertebb nevén Mr. Basary énekes által alapított együttes, eleinte a '70-es, '80-as évek klasszikus külföldi hard rock zenéjét játszotta eredeti nyelven, majd idővel a legendás dalok magyarul is megszólaltak, hála Ghyczy Irén műfordításainak. A '90-es évek közepén már saját zenei anyagok is készültek. Ghyczy Irén szövegeit Mr. Basary zenésítette meg a csapat hangszerelésével. A most kiadásra kerülő CD-n szereplő dalok ekkor születtek.
Mr. Basary (Babári József) – ének, vokál
Tihanyi "Tánci" Gábor – gitár, vokál
Talabér "Lacika" László – basszusgitár, vokál
Magyari "Sörös Bandi" András – billentyűs hangszerek
Jóvér "Imi" Imre – dob
Tracklist:
01 – Más lett a világ
02 – Amitől nem szabadulhatsz
03 – Eltűnt gyermekek
04 – Magadért játssz
05 – A csend fogságában
06 – Fordulj a falnak
07 – Hiányos álmok
08 – Álmot hív
09 – Black Night (bonus track)
10 – Easy Livin' (bonus track)
11 – Since You Been Gone (bonus track)
12 – Smoke On The Water (bonus track)
Köszönet thoms01-nek (Naftamusic), az eredeti feltöltésért!
https://zenekucko.com/bagrocsefo
Ha kicsomagolásnál jelszót kér, írd be a Zenekucko szót a megfelelő helyre.
Találatok: 2