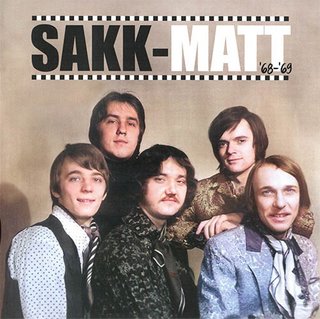 1968 korszakhatár volt a nyugati és a magyar könnyűzene történetében egyaránt. A klasszikus értelemben vett beatzene egyeduralmát itthon Radics Béla és a Sakk-Matt törte meg. Radics kitartó elhivatottsága nélkül a hard rock itthon talán csak később és egészen biztosan máshogy honosodott volna meg.
Az album gerincét az 1968 végén a Danuvia Művelődési Házban felvett Sakk-Matt koncert felvétele és a demók adják. Ezek nagy része 2003-ban már megjelent, de az eredeti, a Radics Béla Emléktársaság kiadásában megjelent lemezről lemaradt két Danuviás dal. Akkor a szerkesztők nem akarták a dalokat ismételni, pedig ezek értékes alternatívák a demóverziók mellett, még akkor is, ha az egyik hangfelvétel sajnos nem teljes.
A Shake Rattle And Roll és a Summertime Blues is csak töredékes formájában maradt meg az utókornak. Utóbbi dal, valamint a Sunshine Of Your Love 1968. december 19-én a Radnóti Művelődési Házban lett rögzítve.
A hangfelvétel minőségének az szab határt, hogy a Sakk Matt sohasem juthatott el a korabeli Lemezgyár és a Rádió stúdióiba. A kiadvány alapjául szolgáló felvételeket több mint ötven évvel ezelőtt, házi körülmények között rögzítették, a hangrestaurálás során mindent megtettek amit lehetett.
Magyar rocktörténeti kuriózum, feljavított minőségben!
Radics Béla – gitár
Miklóska Lajos – basszusgitár, vokál
Csuha Lajos – ritmusgitár, vokál
Harmath Albert – ének
Hőnig Rezső – dob (a koncertfelvételeken)
Váradi "Vadölő" László – dob (a demófelvételeken)
Tracklist:
01 – Interjú Radics Bélával és Miklóska Lajossal
02 – Van, aki fél, van, aki nem
03 – Hosszúhajú lány
04 – Visszajár néha a múlt
05 – Manic Depression
06 – Red House
07 – Purple Haze
08 – Shake Rattle And Roll
09 – Két barna szem
10 – Fire
11 – Foxy Lady
12 – S.W.L.A.B.R.
13 – Visszajár néha a múlt
14 – Hosszúhajú lány
15 – Cat's Squirrel
16 – Van, aki fél, van, aki nem
17 – Sunshine Of Your Love
18 – Summertime Blues
Köszönet thoms1-nek (Naftamusic), az eredeti feltöltésért!
https://zenekucko.com/sama689
Ha kicsomagolásnál jelszót kér, írd be a Zenekucko szót a megfelelő helyre.
Találatok: 31