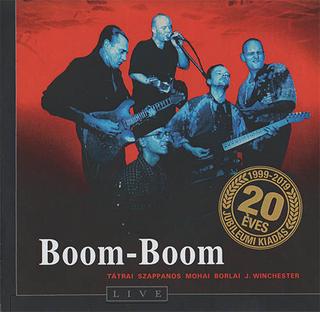 A lemez Tátrai Tibusz "szabadidős" zenekarának, az Old Man's Pub-ban tartott egyik fellépésének felvételét tartalmazza. 20 éves jubileumi kiadás (1999-2019).
A zenekar alkalmi formációnak indult. 1998 karácsonya előtt felszabadult egy nap az Old Man's Pubban. Szappanos György akkoriban több csapattal is fellépett a helyen, s kitalálta, hogy jam-et csinál erre az estére.
Meghívta aktuális barátait, hogy muzsikáljanak egy jót. Olyan remekül érezték magukat, hogy kedvük támadt folytatni. Tehát nem valamiféle tervezés hozta létre a zenekart, egyszerűen csak megszületett. Ahogy a név kiötlésén sem gyötrődtek sokat. Feltették maguknak a kérdést, hogyan nevezzék a bandát. Valaki azt mondta: bumm. Egy másik rávágta: bumm-bumm. Ebből lett a Boom Boom.
1999 óta már CD-ről is lehet hallani a Boom Boom produkcióját. A zenekar később feloszlott, bár ez ellen még az interneten is tiltakoztak a rajongók. De hiába, úgy tűnik, ebben a történetben csak ennyi volt.
Tátrai Tibor – gitár
Szappanos György – basszusgitár
Mohai Tamás – gitár, vokál
Borlai Gergő – dob
Jamie Winchester – ének, gitár
Tracklist:
01 – Slow Ride
02 – Help the poor
03 – Mustang Sally
04 – Rugged road
05 – Come together
06 – Oh well
07 – Blue on black
08 – Superstition
09 – Hard to handle
10 – Little wing
Köszönet thoms01-nek (Naftamusic), az eredeti feltöltésért!
https://zenekucko.com/boboli
Ha kicsomagoláskor jelszót kér, írd be a Zenekucko szót a megfelelő helyre.
Találatok: 13