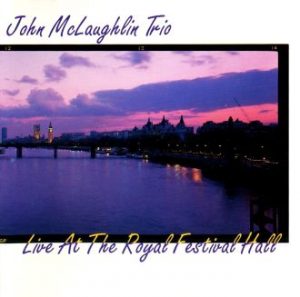 John McLaughlin, az 1942 január 4-én, Doncasterben (Yorkshire), azaz Angliában született gitáros az amerikai Miles Davis elektro-jazz fúziós együttesében vált híressé az 1960-as évek végén – mára minden idők egyik legnagyobb hatású és legtechnikásabb gitárosa. Játszott jazzt, klasszikus indiai zenét, fúziós jazzt – és persze hagyományos értelemben vett klasszikus zenét is.
Az 1980-as évek végén John McLaughlin Kai Eckhardt basszistával és a legendás ütőhangszeressel, Trilok Gurtuval alapított triót. A zenekar két albumot vett fel, a Live at the Royal Festival Hall-t és a Que Alegriát, mely utóbbin Dominique DiPiazza játszik a basszuson (két szám kivételével). McLaughlin ezeken a lemezeken visszatért az akusztikus hangzáshoz: nylon-húros gitáron játszik. A Live at the Royal Festival Hallban egy különleges gitár-szintetizátort is használ, amely lehetővé teszi, hogy a gitárrészeket loopolja és újabb szólamokat játszon föléjük. Egy olyan pedál is van ehhez a gitárhoz, amelynek a segítségével gyakorlatilag végtelen hosszúságú sustain-effekthez (kitartott hanghoz) jut McLaughlin. (Danczi Csaba László, prae.hu)
Kedves Gykrantz, köszönjük a lemezt!
A zenészek: John McLaughlin – acoustic guitar, Photon Midi interface; Trilok Gurtu – percussion; Kai Eckhardt – electric bass.
A számok:
01. Blue In Green (Miles Davis) – 6:36
02. Just Ideas (Mitchell Forman) / Jozy – 5:32
03. Florianopolis – 15:13
04. Pasha's Love – 7:55
05. Mother Tongues – 19:21
06. Blues For L.W. – 9:39
(All compositions by John McLaughlin except where indicated)
https://zenekucko.com/05072
Találatok: 5