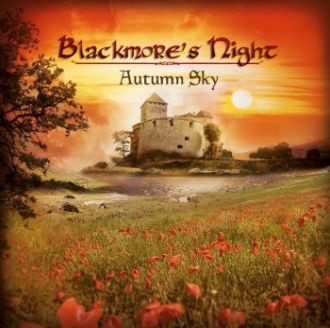 "1997-ben jelent meg az első albumuk, azóta folyamatosan és egyenletesen magas színvonalon készítik lemezeiket, immár a tizenegyediket a sorban. Nincs nagy csoda ezen az albumon sem, aki eddig nem szerette ezt a stílust, a reneszánsz korszaknak a 20-21. századi reinkarnációját annak ez a lemez sem fog semmit jelenteni.A korabeli hangszerek (mandolin, tekerőlant, domra) arzenálját modernkori hangszerekkel kiegészítve (elektromos gitár, bass gitár, dobok) egy rendkívül érdekes elegyet hallhatunk. Három alapvető, és egyben meghatározó eleme van ennek a zenének: Blackmore zeneszerzői vénája és zenészi képességei, Candice hangja és a reneszánsz körítés.
Akármelyik kimaradna ebből a felsorolásból az egész mű romokba dőlne össze azonnal, így viszont a modernkori lovagok és hercegnők társzekéren gördülnek végig a XIV. – XVI. századokon, megelevenítve a kort és képzeletünk elé varázsolva a nagy lakomákat, a romantikus ködfüggönybe burkolózott kastélyokat, titkos kertek mélyén adott szerelmes találkákat és persze a férfias lovagi tornákat.
Candice bársonyos, rendkívül kellemes orgánuma magával rántja az embert azonnal.
Manapság szinte csak gótikus vagy klasszikus metal zenekarokban találkozni énekesnőkkel, akik megpróbálják a csillagot is leénekelni az égről és operai magasságokban járnak sokszor nyaki ütőereket nem kímélve. Candice lazán, kedvesen, romantikus adja elő saját szerzeményeit minden különösebb rock attitűd nélkül. A dalok hangszerelése külön figyelmet érdemel, hiszen végre kellemes perceket hozhatnak nekünk, a műfajban megszokott torzított effektezett villanygitárok után.
Amit szintén szeretnék még kiemelni a zenekarral kapcsolatban, hogy minden botránytól, bulvártól mentesen szépen élnek és zenélnek.
Nem hangos tőlük a rock sajtó, szinte csak akkor hallunk felőlük, amikor új albumuk jelenik meg, vagy esetleg hazánkban járnak egy remek koncert erejéig (volt már rá példa).
Ez a zene, ez a hozzáállás talán már a 40 évük felé közeledőknek ad hatalmas értéket, és nem a lázadó fiataloknak. Egyedül az vigasztal, hogy ők is majd elérik ezt a kort és nagyon bízom benne, hogy a Blackmore's Night akkor is létezni fog és nekik is hatalmas értéket tud adni zenei és lélektani szempontból.
Ezeken a dalokon el lehet gondolkodni, mélázni, akár relaxálni is. Igazi kikapcsolódást és felüdülést nyújtanak a mozgalmas, zajos mindennapi bulvár ocsmányság tengerében.
Középkorosztályú rockereknek mindenképpen nagyon ajánlom, fiataloknak pedig azért, mert érdemes idejében elkezdeni barátkozni a gondolattal, – hogy ma még hihetetlennek is tűnik -, de rájuk is "ezek a dalok várnak" 20 év múlva!" (Magasházi Gábor, rockvilag.hu)
A dalok:
1. Highland
2. Vagabond
3. Journeyman (Vandraren) (Nordman cover)
4. Believe In Me
5. Sake Of The Song
6. Song And Dance
7. Celluloid Heroes
8. Keeper Of The Flame
9. Night At Eggersberg
10. Strawberry Girl
11. All The Fun Of The Fayre
12. Darkness
13. Dance Of The Darkness
14. Health To The Company (Ír ballada)
15. Barbara Allen
A zenészek:
Ritchie Blackmore – gitár, mandolin, domra, hurdy gurdy
Candice Night – ének, chanter, cornamuse, shawm, rauschpfeife, tambourine
Bard David of Larchmont – billentyűs hangszerek
Squire Malcolm of Lumley (Malcolm Dick) – dobok
Gypsy Rose (Elizabeth Cary) – hegedű
Earl Grey of Chamay (Mike Clemente) – basszusgitár, mandolin és gitár
A 2013. november 17-i bejegyzés frissítése.
https://zenekucko.com/00851
Találatok: 57