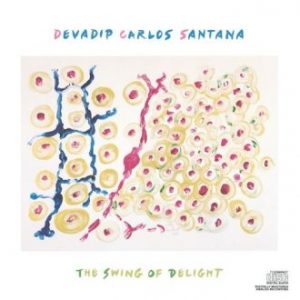 "Remény-folyó folyik, remény-folyó folyik
az ismeretlen szárnyán
ez a mosoly folyója
Minden percben sírok zokogok és remélek
ismét én vagyok aki táncolok Urammal
az öröm sodrában.
Sri Chinmoy bengáli guru szavai ezek. A Mesternek nemcsak milliók köszönhetik lelki békéjüket és kiteljesedésüket, hanem a Zene is örök hálával tartozik ihletéséért, amelyet olyan óriásoknak adott, mint Leonard Bernstein, Pablo Casals, Yehudi Menuhin, továbbá John Coltrane, John McLaughlin és Carlos Santana. Ez a versimája éppen Santana 1980-as albuma, a The Swing of Delight borítóján olvasható.
A mexikói születésű muzsikus (1947. július 20.), aki zaklatott gyermekkor után került bele a San Franciscói hippivilágba, már első, máig emlékezetes nagy sikerei, a Woodstock-i fesztivál, a bemutatkozó Santana-album és főleg azt követő Abraxas után zenei és lelki válságba került: kezdte szűknek érezni az általa kitalált "latin rockot", miközben kábítószer- és magánéleti problémái is nyomasztóan hatottak rá. Így indult el a spirituális élet és zene irányában, és ennek nyomai már az 1972-es Caravansaray című lemezen is érezhetőek voltak, hogy az erősen jazz-rockos Welcome-ban (1973), Borbolettában (1975) és a Lotus című tripla albumban kiteljesedjenek ezek a törekvések. Ez utóbbin már meditáció is hallható. Ekkor Carlos már Sri Chinmoy tanítványa volt, felvette a Devadip (Isten Fénye) nevet, leszokott a drogról, és zenéjét a Mester által hirdetett Legfőbb Szeretet (Love Supreme) szolgálatába állította. Az Illuminations (1973), amit Coltrane özvegyével, Alice-szel készített és Mahavishnu John McLaughlinnal közös gitárlemezük, a Love Devotion Surrender, amelyen két híres Coltrane-darabot, az A Love Supreme-et és a Naimát is feldolgozták, új dimenzióba helyezte Santana muzsikáját.
A nagyközönség azonban nem ezt várta Carlostól, hanem a lendületes, afro-kubai ritmusokra alapuló, közérthetőbb zenét. Így a 70-es évek végére Santana kénytelen volt kétlakivá válni: zenekarával funkys elemeket sem nélkülöző, nemegyszer a kommersznek túl nagy engedményeket tevő korongokat vett fel, míg saját nevén adta ki – részben a Santana Band tagjaival – a Mesternek szentelt felvételeit. Az utolsó és a legjobb volt ezek közül a The Swing of Delight.
Santana ehhez a különleges munkához néhány állandó zenésztársa, köztük a "Gorilláknak" nevezett szenzációs ütősnégyes – Armando Peraza, Graham Lear, Raul Rekow, Orestes Vilato – mellett a jazz- és jazz-rock olyan nagyságait hívta meg, mint Herbie Hancock, Ron Carter, Wayne Shorter és Tony Williams. Ez a négy muzsikus a 60-as években Miles Davis kvintettjét alkotta a legendás trombitással, a következő évtizedben pedig a V.S.O.P. formációban játszottak együtt, Shorter pedig alapítója volt a jazz-rock egyik meghatározó csapatának, a Weather Reportnak.
A The Swing of Delight arról is nevezetes, hogy a rock történetében először készítettek lemezfelvételt digitális módon, öt évvel az első rock-CD, a Dire Straits Brothers In Arms-ja előtt. Éppen a felvétel újszerűsége miatt, amely főleg az ütősök hangzásánál észrevehető, a szokásosnál rövidebb időtartamú a dupla LP." (Göbölyös N. László)
A számok:
01. Swapan Tari 6:48
02. Love Theme From "Spartacus" 6:53
03. Phuler Matan 5:55
04. Song For My Brother 6:59
05. Jharna Kala 7:13
06. Gardenia 7:10
07. La Llave 3:42
08. Golden Hours 6:39
09. Sher Khan, The Tiger 5:47
A lemezt készítő csapat:
Carlos Santana – electric and acoustic guitars, 12-string guitar, percussion, vocals
Herbie Hancock – acoustic piano, Rhodes, Clavinet, Clavitar, Prophet 5, Yamaha CS-80
Wayne Shorter – soprano and tenor saxophones
Ron Carter – acoustic bass
Tony Williams – drums
Harvey Mason – drums
Russell Tubbs – soprano and tenor saxophone, flute
David Margen – bass
Graham Lear – drums
Armando Peraza – congas, bongos & percussion
Raul Rekow – congas, percussion & vocals
Orestes Vilato – timbales, percussion & vocals
Alex Ligertwood – vocals on track 7
Francisco Aguabella – congas
Produced by David Rubinson
https://zenekucko.com/03850
Találatok: 20