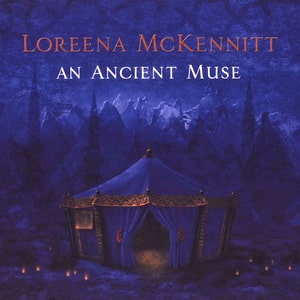 "Hétévnyi hallgatás. Ennyi választotta el a kanadai kelta-világzenész, Loreena McKennitt hetedik és nyolcadik albumát. Az ok: személyes tragédia, de ennek közvetlen hatása cseppet sem érződik az új anyagon.
Az An Ancient Muse – ahogy azt Loreena McKennitt-től megszokhattuk már – újabb zenei utazás, ezúttal a Selyemút, a kínai-európai kereskedelem kultúrákat átszelő és egyesítő útvonalának felderítéséről szól.
És mint ilyen, keresztmetszetet ad a középkori és reneszánsz kelet-nyugati kontaktus kölcsönösen megtermékenyítő hatásairól.
Rögtön a bevezető szám arra emlékeztet minket, mennyire komoly befolyással volt a nyugati, vagyis római kereszténységre a bizánci kultúra.
Az "Incantation" dallamában, díszítéseiben, szőnyegszerű, monoton kíséretében ugyanis a görög közvetítéssel a VII. és VIII. századokban Rómába jutott arabos, bizánci egyházi dalok rokonát fedezhetjük fel.
Olyan dalokét, amilyeneket még a Karoling gregorián ének "szabályainak" megszilárdulása előtt hallgathattak templomba járó őseink.
Még nagyobb meglepetéssel szolgál a "Sacred Shabbat", amit első hallásra akár kora reneszánsz magyar tánczenének is hihetnénk, ám hamar kiderül róla, hogy a sűrűn pontozott ritmusú dallam, és a hozzá köthető felfogás úgyszintén görög, valamint török közvetítéssel jutott el Európába, és így hazánkba is.
A legdöbbenetesebb felfedezés mégis az, hogy a dal eredetije (már amennyire a keletkezéstörténete nyomon követhető) szefárd zsidó egyházi ének volt.
Kell ennél ékesebb bizonyíték a muzikalitás egyetemességére, a zenei magvak különféle termőtalajokbani csodás kicsírázására?
A lemezen persze hallhatunk még bandukolós, a lassú vándorlás izgalmasan egyhangú hangulatát sugalló, lírával és uddal (a lantot, arabul al udnak hívták, s ebből ered az angol lute elnevezés) megszólaltatott zenét ("The Gates Of Istanbul"); reneszánsz gamba consorttal (nem kisebb név, mint a régizenés Fretwork előadásában) indított Walter Scott-költemény megzenésítést ("The English Ladye And The Knight"); no meg hamisítatlan kelta dalt ("Penelope's Song" és "Never-Ending Road"), amilyennek azt többek között Enyától ismerjük.
Ha lehetséges ilyesmi, Loreena McKennitt a középkorba és az első világjárók, felfedezők századába varázsol minket vissza sajátos világzenéjével, mely a földkerekség népeinek és muzsikáinak egységességét, egyazon gyökereit mutatja meg gyönyörű félreérthetetlenséggel." (Galamb Zoltán, ekultura.hu)
Közreműködők: Tal Bergman – dobok, ütőhangszerek; Stuart Bruce – vokál, ütőhangszerek; Clive Dreamer – dobok; Panos Dimitrakopoulos – kanun; Nigel Eaton – tekerőlant; Ben Grossman – tekerőlant; Ed Hanley – tabla, udu dob; Jason Hann – ütőhangszerek; Steáfán Hannigan – török klarinét, vokál, ír duda; Brian Hughes – elektromos gitár, gitár-szintetizátor, vokál, ud, kelta buzuki, spanyolgitár; Charlie Jones – akusztikus basszusgitár; Manu Katché – dobok; Georgios Kontogiannis – görög buzuki; Tim Landers– basszusgitár; Caroline Lavelle – cselló; Rick Lazar – ütőhangszerek; Annbjørg Lien – nyckelharpa; Hugh Marsh – hegedű; Loreena McKennitt – ének, billentyűs hangszerek, tangóharmonika, hárfa, ütőhangszerek, zongora; Marco Migliari – vokál; Donald Quan – brácsa, vokál; Hossan Ramzay – ütőhangszerek; Sokratis Sinopoulos – líra; Haig Yazdjian – ud.
A lemezen elhangzó számok listája:
1. Incantation
2. The Gates Of Istanbul
3. Caravanserai
4. The English Ladye And The Knight
5. Kecharitomene
6. Penelope's Song
7. Sacred Shabbat
8. Beneath A Phrygian Sky
9. Never-Ending Road (Amhrán Duit)
https://zenekucko.com/03972
Találatok: 60