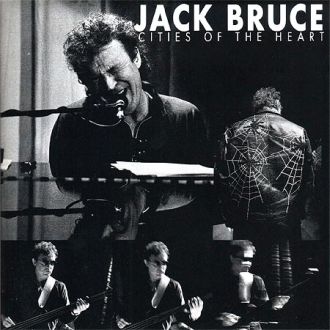 John Symon Asher "Jack" Bruce (1943-2014) a rock-történet egyik legsokoldalúbb muzsikusa, akinek nem voltak műfaji korlátai.
Már gyerekkorában sem fért a bőrébe, ezt bizonyítja, hogy 14 különböző iskolába járt! Később sem arról lett híres, hogy túl sokáig bírta ki egy helyen. "Tanulóéveiben" megjárta Alexis Korner, Graham Bond, majd John Mayall bandáját, és ezt követte a ma is tiszteletteljes áhítattal emlegetett Cream. Az Eric Clapton, Jack Bruce, Ginger Baker trió csodákat művelt a rock-blues terén, ennek ellenére Jack-nek ötvenéves pályafutásából csupán egy "epizód" az 1966-68-as korszak.
A basszus mellett a csellót, a zongorát, a szájharmonikát is kiválóan kezelő, utánozhatatlan orgánumú muzsikus innentől kezdve elképesztően szerteágazó munkásságot mondhat magáénak. Nem csupán saját, senkivel nem keverhető hangzásvilágát alakította ki (a Songs For A Tailor és a Harmony Row alaplemez), hanem belevágott a legkülönbözőbb irányzatokba: készített jazz-rock albumokat John McLaughlinnal, alapítója volt Tony Williams Lifetime-jának, kőkemény hard-rockot játszott trióban Leslie West-tel és Corky Laing-gel, meghívta őt lemezére Cozy Powell, Frank Zappa, Jon Anderson, Donovan, hogy csak néhány nagy nevet említsünk.
1993-ban, 50. születésnapi bulijára meghívta legkedvesebb muzsikustársait, akik között ott volt Dick Heckstall-Smith, Maggie Reilly és Gary Moore is. Ebből remek dupla album készült Cities Of The Heart címmel. Szövegeit  is a kiváló szürrealista költő, Pete Brown írta, zenésztársai között már ott volt fia, Malcolm is. (Géczi László, Göbölyös N. László)
A lemez felvételei 1993. November 2-án és 3-án Kölnben készültek.
CD1
01. Can You Follow? (1:56)
02. Running Thro' Our Hands (4:13)
03. Over The Cliff (3:46)
04. Statues (7:37)
05. First Time I Met The Blues (4:47)
06. Smiles & Grins (9:48)
07. Bird Alone (9:56)
08. Neighbour, Neighbour (5:32)
09. Born Under A Bad Sign (6:17)
CD2
01. Ships In The Night (5:20)
02. Never Tell Your Mother She's Out Of Tune (4:19)
03. Theme For An Imaginary Western (6:00)
04. Golden Days (5:38)
05. Life On Earth (5:21)
06. N.S.U. (6:29)
07. Sitting On Top Of The World (6:52)
08. Politician (5:39)
09. Spoonful (9:13)
10. Sunshine Of Your Love (8:07)
A zenészek: Jack Bruce – Bass, Piano & Vocals; Maggie Reilly – Vocals; Gary "Mudbone" Cooper – Percussion & Vocals; Gary Moore – Guitar & Vocals; Clem Clempson – Guitar; Dick Heckstall-Smith – Saxophones; Art Themen – Saxophone; Henry Lowther – Trumpet; John Mumford – Trombone; Bernie Worrell – Hammond Organ & Piano; Jonas Bruce– Piano & Keyboards; Malcolm Bruce – Acoustic Guitar & Keyboards; François Garny – Bass; Ginger Baker – Drums; Simon Phillips – Drums; Gary Husband – Drums & Piano; Pete Brown – Percussion & Vocals
https://zenekucko.com/05559-60
Találatok: 6