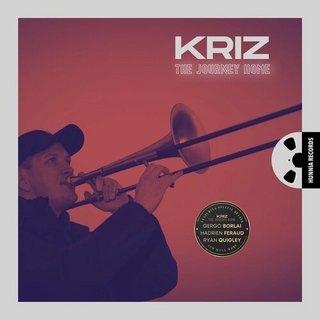 A harsonás Csapó Krisztián KriZ keresett session zenészként eddig is olyan előadók lemezein- és koncertjein közreműködött, mint Charlie, az Irie Maffia, a Brains, a Lóci Játszik, a BJC Big Band vagy épp a Budapest Ragtime Band. Ezúttal azonban frontemberként mutatja be jazz/funk szóló lemezét néhány világszinten is kiemelkedő zenész kíséretében. A The Journey Home lemezbemutatón a dobok mögött az egyik legmagasabban jegyzett magyar zenész, Borlai Gergő közreműködik, míg basszusgitáron korosztályának legjobbja, a francia Hadrien Feraud hallható. Lüktető groove, virtuóz hangszeres szólók és vadiúj szerzemények egy válogatott csapat előadásában!
Csapó Krisztián – harsona
Pecze Balázs – trombita
Soso Lakatos – szaxofon
Varga Dániel – szaxofon
László Attila – gitár
Ladányi Gábor – gitár
Bolyki Tamás – gitár
Tálas Áron – billentyűk
Hadrien Feraud – basszusgitár
Borlai Gergő – dob
Tracklist:
01 – The Journey Home
02 – Saturday
03 – I Have to Make a Call
04 – Snowdrops
05 – Zhin Zhin
06 – Late Night Rhodes Trip
07 – Mean Street
08 – Shark Dance
09 – Krizzly
https://zenekucko.com/krijohom
Ha kicsomagolásnál jelszót kér, írd be a Zenekucko szót a megfelelő helyre.
Találatok: 113