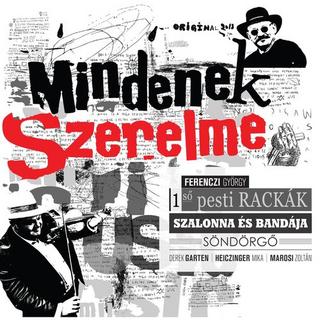 Olyan zenekarokat hoztunk össze, akik ugyanúgy gondolkodnak a zenekarozásról – mondta az 1-ső Pesti Rackák frontembere annak kapcsán, hogy közös lemezt készítettek Szalonna és Bandájával, illetve a Söndörgővel.
"Felszabadult örömzene lett, holott egy évet dolgoztunk az anyagon Pál István Szalonnáékkal. Az az amerikai hangmérnök, Derek Garten rögzítette, akivel Nashville-ben szoktunk dolgozni" – fogalmazott a zenész a Mindenek szerelme című CD-ről. Ferenczi György felidézte, hogy készített egy kilencszámos gitár-dob-basszus demót, négy dalkezdeményt az 1-ső Pesti Rackák is hoztak, ezeket adták oda Szalonnáéknak. A lábdob beütések kiadták egy-egy magyar tájegység tánclépéseit, ez volt a kiindulási pont a közös munkához. "Egyszerre játszottuk fel, ahogy az ötvenes években csinálták, iszonyatos ereje van, ahogy a két zenekar együtt muzsikál"– tette hozzá a szájharmonikás, énekes, hegedűs.
A lemez harmadik szereplője a Söndörgő, amely egy több mint nyolcperces darabbal szállt be a közös munkába. "Évekig jártunk egymás koncertjeire, világszínvonalú produkció, amit ők képviselnek". Ferenczi György szerint muzsikájuk nem fúziós zene, inkább az elmúlt évtizedekben felhalmozott zenei tudás, gyakorlás alakul saját zenévé.
Tracklist:
01 – Hull a levél a virágról
02 – Mindenek szerelme
03 – Egy goromba tábornokhoz
04 – Impresszionista festmények
05 – Sári néni
06 – Galgamenti táncrend
07 – Ha megfogom az ördögöt
08 – Söndörgős cucc
09 – Csaplárné
10 – Kalotaszegi rend
11 – Airplane blues
https://zenekucko.com/fegymisz
Ha kicsomagoláskor jelszót kér, írd be a Zenekucko szót a megfelelő helyre.
Találatok: 113