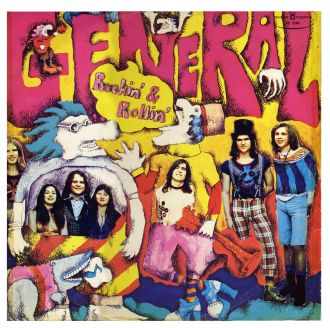 Az 1971-ben alakult Generál együttes igazán népszerű csapat volt, többek között Révész Sándorral, Karácsony Jánossal és Novai Gáborral. Az 1972-es Ki mit tud? versengésen tűntek fel, a Mit tehet az ember című dallal.
Az első album olyan, a mai napig ismert slágereket tartalmazott 1973-ban, mint a Törökméz vagy a Fűrész. Sztárzenekar lett a Generál, Magyarország mellett Közép- és Kelet-Európában is, egy albumát (ezt) egy lengyel kiadó adta ki. Ám 1975-ben előbb Karácsony ment az LGT-be, majd a frontember Révész a Piramisba.
És itt a Generál együttesnek már egy új korszaka kezdődött, Tátrai Tibor és Horvázh Charlie közreműködésével.
"Ez a Generál-lemez Lengyelországban 200.000 példányban fogyott el. Na persze, az egy négyszer nagyobb ország. Idehaza nem adták ki, manapság olyan 4-5000 forintért beszerezhető a lemezpiacon. Ritkaság. Még Révész énekel, de Karácsony János ekkor már az LGT sorait erősítette. Helyét Paczári Károly vette át, aki nem rossz, de nem olyan klasszis, mint James.
A Piramis angol nyelvű lemezével kapcsolatban említettem, hogy Révész – bár jól tudott angolul, hisz élt is egy évet Angliában – angol nyelven azzal a Piramis-anyaggal mégsem volt olyan meggyőző, mint magyarul. Érdekesség, hogy itt viszont rendben van. Az angol verziók nem csak újraénekeltek, hanem hangszeresen is újrastúdiózottak. Kivétel ez alól a Hollandiában és az NSZK-ban kislemezen megjelent Everybody Join Us. E tekintetben érdekes továbbá, hogy ehhez képest az előbb említett kislemez másik dalát, a Wheather Cockot (Szélkakas) viszont újrajátszották erre a nagylemezre. Nekem az eredeti magyar stúdióverziók kivétel nélkül jobban tetszenek. A Suzy (Kövér a nap) előtt lengyelül számolnak be, countrysabb, mint a magyar. A Where I'm Going (Hová menjek?) viccesen elharapott kiejtésű, kicsit pattogósabb is, mint a magyar.
A lemez nem csak azért érdekes, mert angol nyelvű, hanem mert olyan dalok is szerepelnek rajta, amik a magyar nagylemezeken és kislemezeken nem jelentek meg. Ilyen az Everybody Join Us és az Őrült álom, amit rendhagyó módon magyarul énekeltek fel. Kísértetiesen hasonlít a dal a Led Zeppelin The Crunge-ára. A Generál sok vonásában hasonlított a ZEP-re. Jó lemez. Révész távozása után, helyét Charlie vette át, a zenekar zeneileg is átalakult. 1977-ben azonban – ugyancsak Lengyelországban – megjelent még egy angol nyelvű nagylemezük. Hasonlóan nagy példányszámban, mint az első.  (passzio.hu)
A számok:
01. Rockin And Rollin
02. I'm So Lazy
03. The Story Of My Lady
04. O.K. Tomorrow
05. Question
06. Suzy
07. Where I'm Going
08. Őrült álom
09. A Song For You
10. Weather-Cock
11. Everybody Join Us
Közreműködő zenészek: Révész Sándor – ének; Novai Gábor – basszusgitár; Várkonyi Mátyás – gitár, Fender és Hohner zongora; Paczári Károly – gitár; Póta András – dob; Mikroled vokál: Várszegi Éva, Szigeti Edit, Herczku Mari.
https://zenekucko.com/04575
Találatok: 124