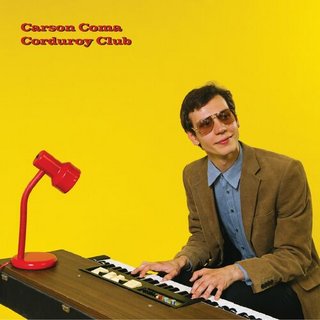 A Carson Coma egy 2018-ban alakult rockzenekar, mely az utóbbi évek egyik legdinamikusabban fejlődő fiatal együttesévé nőtte ki magát. Debütáló nagylemezük, a Corduroy Club 2019-ben a kritikusok kedvenc albuma lett, olyan dalokkal, mint a Kreolkék pillanatok vagy a Song About My Grandma. Ez utóbbi nyerte el a 04. Magyar Klipszemle fődíját, mely keretein belül a zenekar további három díjat tudhatott magáénak – ezzel demonstrálva a vizuális elemekre fektetett hatalmas hangsúlyt. A zenekar első születésnapját az Akvárium Klub KisHalljában egy sold out koncerttel ünnepelte, illetve az ország több nagyvárosában (Pécs, Debrecen, Győr, Nyíregyháza, stb.) is jelentős közönség előtt léphetett fel.
Bóna Zsombor – gitár, vokál
Fekete Giorgio – ének, gitár
Gaál Péter– ütősök
Héra Barnabás – dob, ének
Jónás Attila – basszus, vokál
Kun Bálint – billentyűk, vokál
Tracklist:
01 – Song About My Grandma
02 – Kreolkék pillanatok
03 – She's a Sinner
04 – Cringe Days
05 – Let's Call It a Day
06 – What a Time to Be Alive
07 – Sunday Morning Cartoon
08 – I Don't Mind
09 – Elmélkedések egy magasabb rendű életforma esetleges hiányáról
https://zenekucko.com/carcococlu
Ha kicsomagolásnál jelszót kér, írd be a Zenekucko szót a megfelelő helyre.
Találatok: 68