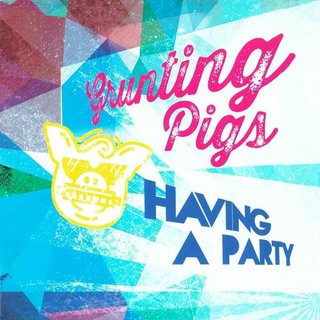 A Grunting Pigs Pribojszki Mátyás – az egyik legismertebb hazai és európai szinten is jegyzett, elismert szájharmonikás, énekes, valamint Szász Ferenc – gitáros hosszú évek óta működő és aktívan koncertező duó formációja. Pribojszki Mátyás, aki szólóban, különböző formációival, valamint zenekarával a Pribojszki Mátyás Banddel  már keresztül-kasul bejárta Európát, több mint 30(!) országban koncertezett és itthon is alig akad olyan klub vagy fesztivál, ahol ne lépett volna fel, különböző felállásokban.
A Grunting Pigs duó stílusa egyedi, energikus, vidám, erőteljes és pozitív blues zene, amelyben a szájharmonika – mint domináns szólóhangszer – sokszínű és különleges hangzása mellett, a virtuóz gitárjáték, valamint az ének jelenik meg, így alkotva kerek egészet.
A Having a party című album 2020 nyarán jelent meg.
Pribojszki Mátyás – harmonika, ének
Szász Ferenc  – gitár, ének
Tracklist:
01 – Hook Line and Sinker
02 – Having a party
03 – I don't go for that
04 – Easy ridin' mama
05 – My bitter seed
06 – Mama don't like
07 – It's not easy
08 – Grunting walks
09 – Sugar babe
10 – That's all right
11 – Dog without a bone
12 – Fat mama boogie
https://zenekucko.com/grupihavapa
Ha kicsomagoláskor jelszót kér, írd be a Zenekucko szót a megfelelő helyre.
Találatok: 55