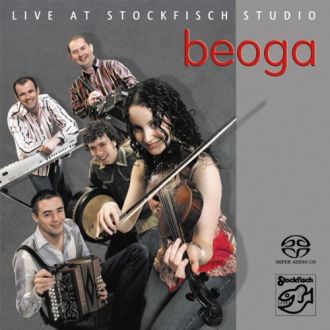 "A közkedvelt Stockfisch Records legújabb "szerzeménye" a Beoga névre hallgató zenekar. Az Írország északi részéről származó banda 2002 környékén kezdte meg a működését, de a jelenlegi felállásban csak 2005 óta játszanak. Talán a legkézenfekvőbb az lenne, ha egy ír zenekar ír zenét játszana, de a Beoga esetében ez csak részben van így.
Igaz, hogy a zenei világukban nagy szerepe van az ír dallamoknak, de mellette egészen bátran kalandoznak más területeken is. Ennek megfelelően a produkcióikban éppúgy "felbukkanhat" Astor Piazzola szelleme, mint ahogyan new orleans-i elemek is keveredhetnek a muzsikájukba. Mindezeket összegyúrva válik a muzsikájuk karakteressé és abszolút egyedivé.
A közelmúltban jelent meg a német kiadó gondozásában a zenekar Live at Stockfisch Studio című albuma. Az 50 perces, hybrid sacd formátumú korongon 13 dal kapott helyet. A repertoárban éppúgy megtalálhatóak a tradicionális művek (pl. a Factory Girl), mint feldolgozások (pl. a Dirty Work: Donald Fagen/ Walter Becker) valamint a zenekar tagjainak saját szerzeményei (pl. a Soggy's).
A Beoga muzsikusai lelkesen és nagy vitalitással játszanak, ezért produkcióik igazi energiabombának számítanak, ráadásul abból a fajtából amelyiknek nincs káros mellékhatása…
A sokszínű, tartalmas szórakozást ígérő kiadvány – hála Günter Pauler-nek – a Stockfish-től megszokott professzionális hangminőségben szólal meg." (Czékus Mihály, Hifipiac.hu)
A számok:
01 Trolleyed
02 Factory Gir
03 Jazzy Wilbur
04 Mickey The Pipes
05 Please Don't Talk About Me When I'm Gone
06 Boxy Set
07 Both Sides The Tweed
08 A Lovely Madness
09 A Delicate Thing
10 Soggy's
11 The Prelude Polkas
12 The Solid Man
13 Dirty Work
A csapat:
Niamh Dunne / ének és fidula
Seán Óg Graham / tangóharmonika és gitár
Liam Bradley /zongora és egyéb billentyűsök
Damian Mckee /tangóharmonika
Eamon Murray /bodhrán (kézidob).
https://zenekucko.com/01364
Találatok: 40