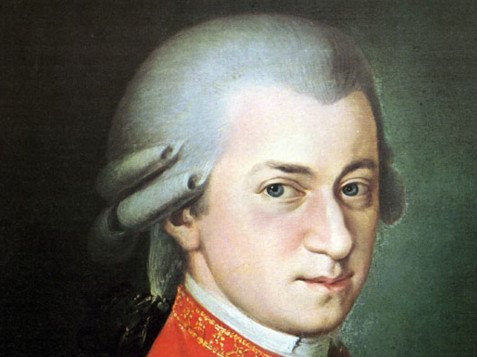 Johannes Chrysostomus Wolfgangus Theophilus Mozart  (Salzburg, 1756. január 27. – Bécs, 1791. december 5.)
"Azt hiszem, tehetségét a Jóistentől kapta", mondta a salzburgi hegedűtanár és zeneszerző Leopold Mozart feltűnően tehetséges fiáról, Johannes Chrysostomus Wolfgangus Theophilusról, akinek először zongora- és hegedűleckéket adott, majd később a zeneszerzés tudományába is beavatta.
A fiú alig töltötte be a hetedik évét, amikor "Wolfit" és öt évvel idősebb nővérét, "Nannit" édesapjuk már mindenütt csodagyerekként mutatta be. Mozart soha nem járt iskolába, gyermekkora nagyrészt hosszú, fárasztó és nagyon sikeres európai koncertkörutakból állt, amelyek során rengeteg zenei tudást és élményt szívott magába.
Mint a salzburgi érsek alattvalója, Mozart igen jelentős karriert futott be: már 13 éves korában – igaz, fizetség nélkül – karmesterként tevékenykedett. Később udvari orgonistaként és zeneszerzőkét is dolgozott, valamint rengeteget koncertezett és karmesterkedett. Azonban Salzburg városa és az udvari kötelezettségek egyre terhesebbé és elviselhetetlenebbé váltak számára. Meglehetősen terjedelmes utazásain egyre inkább igyekezett új megbízásokat és állást találni. Egy különösen fárasztó párizsi út során édesanyja – akit gyakran vitt magával –, sajnálatos módon elhalálozott.
1781-ben, 25 évesen hagyta el Salzburgot, Bécsben vetette meg a lábát szabadúszó karmesterként, majd édesapja akarata ellenére meg is házasodott. Mozart korának egyetlen zeneszerzője volt, aki több zenei műfajban is nagyot alkotott. Habár gyakran elsőre könnyednek és egyszerűnek tűnik, zenéje saját korában igen komplex, sokrétű és végtelenül inspiráló volt. Az akkori közönség esetenként teljesen értetlenül állt művei előtt, nem egy Mozart-operát már néhány előadás után levettek a műsorról. Jóbarátja, Joseph Haydn mindezzel ellentétben azonban úgy fogalmaz: Mozart "a legnagyobb zeneszerző, akit személyesen vagy névről ismerek".
Zeneszerzőként, tanárként és fellépései által Mozart kifejezetten jól keresett, de tékozló életmódja következtében folyamatos pénzzavarral küzdött. Drága lakhelyeket választott magának, nagyszámú személyzet gondoskodott róla, saját hintóval és szerfölött drága ruházattal rendelkezett, valamint minden valószínűség szerint nagy összegeket veszített biliárdon és kártyán.
Hogy mi okozta rövid betegsége utáni halálát, még mielőtt a 36. évét betöltötte volna, soha nem derült ki teljes bizonyossággal. Ő maga úgy vélte, valaki megmérgezte.
Nem tudom, ti hogy vagytok ezzel, de engem gyermekkorom óta foglalkoztat a gondolat, hogy amikor Mozart élt, és alkotott, voltak-e más, tehetséges zeneszerzők is?
Persze tudjuk, hogy voltak mások is, de kik voltak ők?
E sorozat erre a kérdésre szeretne válaszolni.
If you're in a hurry and are in need of someone to compose my essay for me cheap there are many services you can use. While some companies may charge the cost of writing, many have a reputation for being cheap write my essay undependable and never finish your essay. You should be careful about hiring cheap essay writing service. Find out more. It's essential for you to effectively communicate with the service provider at both the time of and following the procedure of placing an order.
Találatok: 32