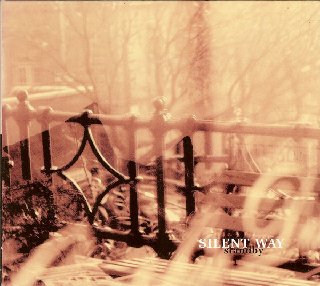 Volt egyszer egy ECM-hangzás…Szép, fényes akkordok, érzéki tonalitás, panaszosan lejtő dallamok, rendhagyó építkezés, szelíden lüktető ritmusszekció, artisztikus, kontrollált elő­adásmód, kristálytiszta, zengzetes felvételi technika. Intellektuális kamarazene. Utóhullámai azonban, a jelek szerint, még ma is messzire vetődnek: a magyar Silent Way együttes CD-je ebbe a hangzásvilágba illeszkedik.
Farkas Mihály kiválóan képzett zeneszerző, hangszerelő és zongorista, a szárnykürtről szoprán- és tenorszaxofonra váltó Czvikovszky Gábor a nagy elődökhöz hason­lóan sejtelmesen fátyolos hangon szólaltatja meg hangszereit, a méltóságteljes lassúsággal kiteljesedő, lírai hangvételű zene akadálytalanul találja meg útját a hallójáratokhoz. A zenének mint szellemi megnyilvánulásnak az érvényességét az adja meg, ha nemcsak helyi értékkel bír, hanem egyetemes vonatkozása is van. Itt azonban megfordult a képlet: előbb vala a kon­cepció – a hangzáseszmény megfogalmazódása -, s ehhez rendeltetett a megvalósítás. Amiből alig hallik ki az, amit a négy fiatal magyar muzsikus tesz hozzá.
Ez a zene puritán szépségével szinte csábítja az időutazásra az embert. Igényes megmunkáltsága, érzelmi töl­tése, kifinomult előadásmódja okán a magyar jazztermés java között volna a helye – ha nem töltene el bennünket újra és újra a déja vu érzése. Igen valaha, valahol már hallottuk ezt, ha nem is hangról hangra ezeket a darabokat, de a Silent Way szerzeményeire megtévesztően em­lékeztető dallamokat és harmóniákat.
Az emlékezet ugyan véges, de nem mindenki képes arra, hogy tudatából kiiktassa a múltat. In a Silent Way, ahogy Miles Davis 1969-ben tette. ~ Turi Gábor (Gramofon, 1996/5)
Czvikovszky Gábor – szoprán- és tenorszaxofon
Farkas Mihály – zongora és Oberheim-szintetizátor
Glaser Péter – bőgő
Gyenge Lajos – dob
Dés András – ütőhangszerek
Tracklist:
01 – P. S.
02 – Standby
03 – September
04 – Pearls
05 – The Last Tango
Külön köszönet baljan-nak a lemezért és az eredeti feltöltésért!
https://zenekucko.com/wp/silwasta
Ha kicsomagolásnál jelszót kér, írd be a Zenekucko szót a megfelelő helyre.
Hits: 78