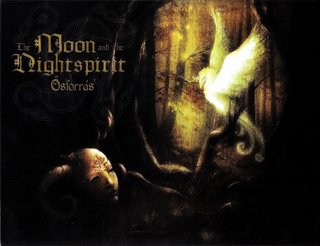 Tóth Ágnes és Szabó Mihály 2003-óta működteti The Moon and the Nightspirit nevű zenekarát. A duó zenéje tökéletesen illeszkedik a "neofolknak" nevezett modern könnyűzenei ágazatba, mely napjainkra nem csak Európa más részein, de hazánkban is egyre nagyobb népszerűségnek örvend.
Harmadik nagylemezük
Ősforrás
címmel 2009-ben jelent meg. A csak autentikus népi hangszerekkel operáló páros középkori és ősmagyar népzenei hagyományokat kever, rendkívül sajátos, éteri dallamokkal. Sok odafigyelést igényel a lemez, hiszen első hallásra a rendkívül könnyű hangzás, a lágy melódiák sodrában a hallgató szinte egy pillanatnak érzi a közel 50 perces kiadványt.
Tracklist:
01. Álomidő
02. Ég felé
03. Ősforrás
04. Fénybe térő
05. Benső patak
06. Tűzben születő
07. Alkonyvarázs
08. Hétvilág
09. Földanya sóhaja
10. Csillag ős
https://zenekucko.com/monispiosf
Ha kicsomagolásnál jelszót kér, írd be a Zenekucko szót a megfelelő helyre.
Találatok: 63