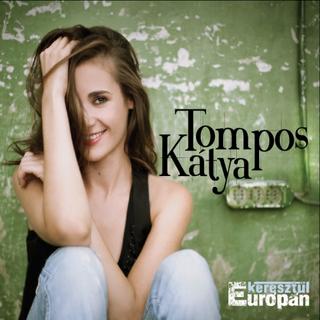 Tompos Kátya (1983. március 13. –) Jászai Mari-díjas magyar színésznő, énekesnő. Valódi neve Katalin, de mivel apai nagyanyja oroszosan Kátyának hívta, ezt választotta művésznevének. Országos ismeretségre tett szert a Vacka Rádió folytatásos mese hangjáték főszerepével. Énekes szerepei is különösen figyelemreméltóak. 2013 novemberében Keresztül Európán címmel jelent meg első szólólemeze, amely varázslatos zenei utazás Angliától Oroszországig. Dalok angol, francia, bolgár, magyar és orosz nyelven. A dalokat Hrutka Róbert öltöztette megfelelő zenei köntösbe.

Tompos Kátya – ének
Dely Domonkos – vokál, perka
Galambos Zoltán – billentyűs hangszerek
Fehérvári Attila – basszusgitár
Hrutka Róbert – gitár, mandolin
Kalmus Felicián – cselló
Markó Ádám – dob
Tracklist:
01 – Szerelem?
02 – Les Passants
03 – Másik felhő
04 – Hajnali részegség / Little wing
05 – Ti nővéreim, barátnőim
06 – Radka mondta az anyjának / Радка майка си думаше
07 – Csak a szívem érzi
08 – With or without you
09 – Az én kutyám
10 – Belleville rendez-vous
11 – Sej elaludtam / Feeling good
Külön köszönet baljan-nak a lemezért és az eredeti feltöltésért!
https://zenekucko.com/tomkereur
Ha kicsomagolásnál jelszót kér, írd be a Zenekucko szót a megfelelő helyre.
Találatok: 11