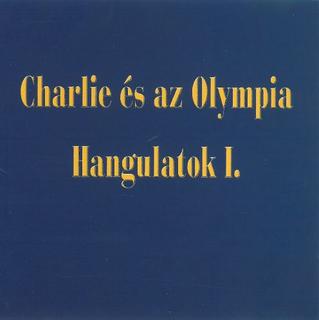 Horváth Károly, művésznevén Charlie (Ónod, 1947. október 28. – ) Liszt Ferenc-díjas magyar énekes, könnyűzenész, a rock, a jazz, a blues, a soul és a funky jellegzetesen rekedt hangú előadóművésze, trombitás. Székesfehérvári gimnazista évei során alapított először rockegyüttest, majd 1967-től a Decca tagja lett. Az együttest jogi okokból át kellett nevezniük, választásuk a mexikóvárosi világverseny által megihletve az Olympiára esett. Ez a Deccával csak részben azonos felállás már kisebbfajta nemzetközi hírnévre is szert tett: országszerte tett fellépéseik mellett Belgrádban is zenéltek. 1970-ben belső ellentétek miatt feloszlott az Olympia. Ezután a Generál együttes tagja volt, majd anak feloszlása után, egy időre egy névben újjáalakult Olympia adott helyet a zenésznek, és svájci és skandináviai fellépéseket tartottak. Egy-egy ilyen fellépésüket rögzítették is, ezekből készült később a Hangulatok I. majd a Hangulatok II. című lemez.
Tracklist:
01 – Do That To Me
02 – Muster Bluster
03 – Give Me The Night
04 – Splanky I.
05 – Celebration
06 – Do You Feel My Love
07 – Jessica
08 – Sexy Eyes
09 – Swing Medley
10 – Funkin' For Jamaica
11 – Too Hot
12 – What A Difference
13 – Fly Me To The Moon I.
14 – Going Through The Motion
15 – Tutti-Frutti
16 – Still
17 – We Don't Talk
18 – Reggae For It Now
19 – Star Dust
20 – Everything Must Change
21 – Better Love
22 – September Moring
23 – Move It To The Music
24 – Shake Your Body
25 – Fly Me To The Moon II.
26 – Splanky II.
Külön köszönet baljan-nak a lemezért és az eredeti feltöltésért!
https://zenekucko.com/cholyhan1
Ha kicsomagolásnál jelszót kér, írd be a Zenekucko szót a megfelelő helyre.
Találatok: 64