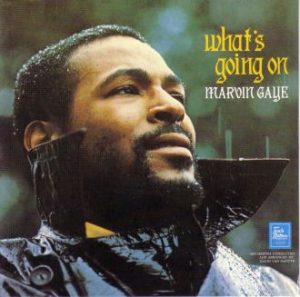 Az 1001 Albums You Must Hear Before You Die (1001 lemez, amit hallanod kell, mielőtt meghalsz) sorozat kétszáznyolcadik (208) lemeze Marvin Gaye tizenegyedik nagylemeze. 
Marvin Pentz Gay, Jr. (1939-1984) Washingtonban született 1939. április 2-án. Apja templomi kórusában kezdett énekelni, de emellett már igen fiatalon helyi együttesekben énekelt és zenélt. A templomi kórust csakhamar elhagyta a rhythm and blues kedvéért. Mindössze 18 éves volt, amikor csatlakozott a Marquees együtteshez, amelyet Bo Diddley, a műfaj akkor már világhírű, bár meglehetősen öntelt előadója pátyolgatott.
Marvin Gaye tehetsége nagy szorgalommal és munkabírással párosult. Hiányzott belőle a magamutogatás, nem volt kenyere a felszínes színpadi villogás. A fiatal énekes a 60-as évek elején Detroitba tette át a székhelyét. Közben tisztességesen megtanult zongorázni, de akkor sem jött zavarba, ha éppen a dobok mellé ültették. Felfigyeltek rá a színes bőrű énekeseket és zenészeket foglalkoztató Tamla Motown kiadónál, amely a soulzene első számú cége volt, és 1961-ben szólóénekesnek szerződtették. (Minden bizonnyal ez akkor is megtörtént volna, ha történetesen nem Berry Gordynak, a lemezkiadó teljhatalmú főnökének nővérét veszi feleségül.)
Először a Stubborn Kind of Fellow-val keltett figyelmet 1962-ben, ez nyomban a rhythm and blues legjobb tíz dala közé került. Első szólósikereivel párhuzamosan együtt dolgozott olyan később világhírűvé vált zenészekkel, mint a Martha and The Vandellas együttes, vagy a fiatal Stevie Wonder. Az I'll Be Doggone és az Ain't That Peculiar volt két első listavezető dala, amelyet még több mint egy tucat követett az évek során. (Albumai közül hét, a dalai közül pedig több mint egy tucat került az élre.) Talán a legismertebb számai közül a Pride and Joy, az I Heard It Through The Grapevine, amely egy korábbi Gladys Knight-siker feldolgozása volt.
A hatvanas évek végétől duóban énekelt az igen szép és szintén fiatalon elhunyt fekete énekesnővel, Tammi Terrellel. Legismertebb, sokak által előadott közös daluk címe Ain't No Mountain High Enough, amely természetesen listavezető lett. Mary Wellsszel és Diana Rosszal is készített közös felvételeket. Marvin Gaye egyenletesen magas színvonalú dalai közül is kiemelést érdemel a What' s Going On, a Mercy, Mercy On Me, a Lets Go Get It On, a Got To Give It Up, a Sexual Healing, az Inner City Blues. Közben megromlott házassága és elvált Anne Gordytól.
Azon a bizonyos tragikus estén, 1984. április elsején apja és közte vita robbant ki. Nem tudni miért különböztek össze, mindenesetre a pisztoly dörrenése egy rendkívül sikeres énekes pályájának végét jelentette. Marvin Gaye az életében kapott két Grammy-díján kívül életműdíjat is kiérdemelt és bekerült a Rock Halhatatlanjai közé is. Halála óta több mint húsz lemeze jelent meg. (Kovács Miklós, harmonet.hu)
A dalok:
1. What's Going On (Al Cleveland, Marvin Gaye, Renaldo "Obie" Benson) 3:53
2. What's Happening Brother (James Nyx, M. Gaye) 2:43
3. Flyin' High (In the Friendly Sky) (M. Gaye, Anna Gordy Gaye, Elgie Stover) 3:49
4. Save the Children (Cleveland, Benson, M. Gaye) 4:03
5. God Is Love (M. Gaye, A. Gaye, Stover, Nyx) 1:41
6. Mercy Mercy Me (The Ecology) (M. Gaye) 3:16
7. Right On (Earl DeRouen, M. Gaye) 7:31
8. Wholy Holy (Benson, Cleveland, M. Gaye) 3:08
9. Inner City Blues (Make Me Wanna Holler) (M. Gaye, Nyx) 5:26
http://links.snahp.it/335maRvin_gaYe
Találatok: 39