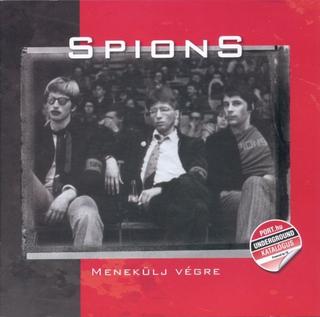 A Spions együttes 1977-ben alakult és botrányos dalszövegeivel és előadásaival úttörő szerepet töltött be. A banda a hazai új hullám alapkövének tekinthető. Minimális zenéjükkel és minimális felkészültségükkel hadat üzentek mindazoknak, akik a rock and rollt csak zenének tekintették. Hegedűs Péter gitáros, Molnár Gergely énekes és Zátonyi Péter gitáros gyakorlatilag három '78-as koncerttel és pár amatőr demó-felvétellel vált legendává. A Spions direkt és áttételes, intellektuális és primitív, durva és érzékeny, végiggondolt és kidolgozatlan volt, a valóságban pillanatokig élt csak, valójában – hatásában – máig él. Előadásaik és dalaik nem a hangszeres tudás megcsillogtatásáról szóltak, és nem is az ismerkedés háttérzenéjéül szolgáltak. A torz performance, a polgár- és elvtárspukkasztó kinézet, és a mindenkit és mindent tagadó botrányos dalszövegek az akkori világnak üzenetek hadat. Ám az aczéli kultúrpolitika hamar persona non grata-nak minősítette a bandát. Fellépési lehetőségeik megszűntek, és mivel akkor még nem alakult ki a punk befogadó közege, Hegedűsék a disszidálás mellett döntöttek. Nyugaton két Spions lemez jelent meg, mindkettő 1979-ben. A Russian Way Of Life / Total Czecho-Slovakia kislemezzel még visszaüzentek a kommunizmusba, míg a The Party EP szintetizátor alapú új hullámos zenéjével már a jövőbe tekintettek. Miután a nyugati közönség nem tudott mit kezdeni a kelet-európai életérzéssel és szövegvilággal, a nyugati punk klisékkel pedig akkoriban Szajnát lehetett volna rekeszteni; ráadásul Molnár és Hegedűs egészen más irányban képzelte el a folytatást, és mindenki magáénak érezte a zenekart: a Spions feloszlott. Molnár Gergely "Gregor Davidow" néven próbálkozott egy darabig, de semmi érdemlegeset nem tudott letenni az asztalra. Azonban a Peter Ogi művésznevet választó Hegedűsnek sikerült maradandót alkotnia. Ogi – saját zenekarain túl -, olyan nagyságokkal dolgozott együtt, mint például Peter Gabriel. 1980-ban az URH, a Kontroll Csoport és a Bizottság indulásával felértékelődött a Spions szellemi öröksége. A "80-as években – az art-punk hazai fénykorában – alternatív zenekarok dolgozták fel Molnárék dalait. Utólag pedig az avantgárdra fogékony közönség elismerését is kivívta az első hazai punk előadás: az 1978. január 15-ei Donauer Video Familie, vagy ismertebb nevén az Anna Frank emlékest és a Filmgyárban rögzített 8 számos Spions demó másolt kazettákon terjedő felvétele. Így vált a Spions punk-legendává poszthumusz.
2009-ben, a két kislemez 30. évfordulóján az Underground Katalógus részeként megjelent egy Spions válogatás. A Menekülj végre című CD egyaránt tartalmaz itthoni amatőr felvételeket és disszidálás utáni dalokat. Ezért hiánypótló kiadványként, fontos kordokumentumként gazdagítja a hazai hanglemezpiacot.
Tracklist (az album borítóján több dalcím is hibásan szerepel):
01 – Jump, Alex
02 – Menekülj végre I.
03 – Menekülj végre II.
04 – Anna Frank álma
05 – Emlékképek
06 – I Am At Home
07 – Marc Bolan
08 – Nirvána
09 – Total Czecho-Slovakia
10 – Russian Way Of Life
11 – ResistDance
12 – TestPilot
Külön köszönet baljan-nak a lemezért és az eredeti feltöltésért!
http://tinyurl.com/qarjbur
Ha kicsomagoláskor jelszót kér, írd be a Zenekucko szót a megfelelő helyre.
Találatok: 7