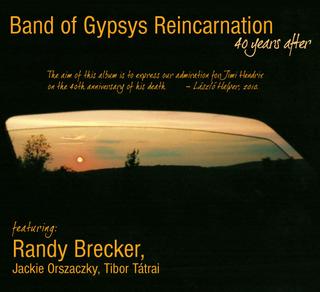 Halper László Jimi Hendrix nyomán elindult új zenekara, a Band of Gypsys Reincarnation első albuma. Ugyan a 44 éves jazzgitáros, aki a blues és a jazzrock iránt is mindig nyitott volt, nem kívánt kifejezetten Hendrix-emlékzenekart alapítani, a sors úgy hozta, hogy néhány éve egy Hendrix tiszteletére rendezett fesztiválon Oláh Péter bőgőssel és Kőszegi Imrével (dob) a legendás gitáros számait interpretálták a maguk módján, alapvetően jazzesen. Az új formáció végül kvintetté bővült Lukács Miklós (cimbalom) és Fekete István (trombita) beállásával, és a Band of Gypsys Reincarnation nevet kapta. Repertoárján elsősorban a híresebb Jimi Hendrix-számok jazzfeldolgozása szerepel, de nem csak az. A fiatalon elhunyt Hendrix (1942-1970) egy ideig Band of Gypsys néven szerepeltette trióját és utolsó, életében megjelent sorlemezének is ez volt a címe. Halperék lemeze viszont azt a címet viseli, hogy 40 Years After, amivel nem csak Hendrix halálának évfordulójára utalnak, hanem kacsintanak egyet a 10 Years After zenekar felé is. A kvintett fantasztikus szólistákat tudott megnyerni magának erre a projektre, legelső sorban Randy Brecker–t, a legendás trombitást, az egykori Brecker Brothers Band, a Steps és más felejthetetlen jazz-rock zenekarok kulcsfiguráját. Brecker négy számra játszott fel szólókat, de annyira komolyan vette a dolgot, hogy volt, amihez több, alternatív szólót is elküldött. Emlékidézőként Halper korábbi zenekarának (Urban Noices) az a felvétele is rákerült a lemezre, amelyen Jackie Orszáczky is közreműködött 2004-ben, egy Millenáris-beli koncerten. Jackie szólamához utólag rögzítette a kvintett a számot a stúdióban. A harmadik kiváló vendégszólista Tátrai Tibor, aki a valószínűleg legtöbbet feldolgozott Hendrix-számban, a Purple Haze-ben hallható.
Band of Gypsys Reincarnation tagjai:
Halper László – gitár
Oláh Péter – bőgő
Fekete István – trombita
Hajas László – dob
Trackllist:
01 – If Six Was Nine
02 – Manic Depression
03 – Purple Haze
04 – Fire
05 – Hey Joe
06 – Who Knows
07 – Voodoo Chile
08 – Cross Town Traffic
09 – Prelude In E Minor
10 – Medley: a) Little Wing – b) 3rd Stone From The Sun part I.
11 – 3rd Stone From The Sun Part II.
https://zenekucko.com/banogre40yaf
Ha kicsomagolásnál jelszót kér, írd be a Zenekucko szót a megfelelő helyre.
Találatok: 6