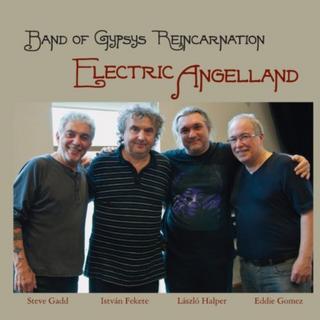 A Band of Gypsys Reincarnation 2012 októberében nagyszabású koncerttel emlékezett meg Jimi Hendrix 70. születésnapjáról. A ritmusszekciót két világhírű muzsikus, Steve Gadd és Eddie Gomez alkotta. A koncerten a zenekar állandó szólistája, Fekete István trombitált. Ezen a szombat estén azért gyűltek össze a MüPa Bartók Termében, hogy megemlékezzenek erről a negyvenkét esztendeje halott gitárosról, aki november huszonhetedikén lenne hetven esztendős. Halper László gitáros 2007-óta működteti Hendrix Tribute projektjét, a Band of Gypsys Reincarnationt, ahol ő és Fekete István trombitás állandó tagok, a ritmusszekció változó. Erre az estére nem mindennapi banda állt színpadra. Laci és Pisti mellett Steve Gadd dobolt és Eddie Gómez kezelte a nagybőgőt. Steve Gadd esetében említsük meg, hogy ő a rockzenében is otthonosan mozog, mert például éveken át játszott Eric Claptonnal, de Paul McCartney is igényt tartott nem mindennapi tudására.
Halper László – gitár
Steve Gedd – dob
Eddie Gomez – nagybőgő
Fekete István – trombita
Tracklist:
01 – Freedom
02 – Have You Ever Been to Electric Ladyland
03 – Highway Chile
04 – Burning of the Midnight Lamp
05 – Can You See Me
06 – Beginnings
07 – Blackbird
08 – I Don't Leave Today
09 – Bold Love
10 – Stone Free
11 – Red House
https://zenekucko.com/bagyelang
Ha kicsomagolásnál jelszót kér, írd be a Zenekucko szót a megfelelő helyre.
Találatok: 44