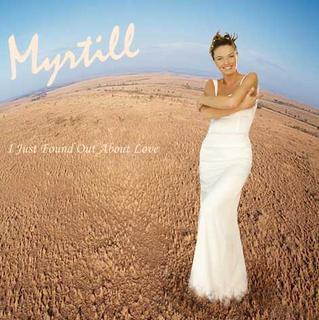 Micheller Myrtill a Liszt Ferenc Zeneművészeti Főiskola jazz-ének tanszakán szerzett diplomát 1999-ben, de 1993 óta folyamatosan dolgozik énekesként a jazz és pop zene legkülönbözőbb területein. 1996-tól a Bergendy Szalonzenekarral, majd azt követően az Ungár Zenekarral dolgozott együtt. Rengeteg pop sztárral zenélt együtt vokalistaként, több mint 40 zenei kiadványon közreműködött. Fontos előrelépést jelentett 2000-ben a "Meseautó" című film feldolgozásához készült filmzene feléneklésére való felkérés, amelyhez kapcsolódva egy teljes CD anyag jelent meg az Escape együttes közreműködésével. Az élőzenélés szeretete folytán számtalan formációban hallhatjuk énekelni. Saját kezdeményezésű jazz zenekarával több szóló albumot készített, az elsőt 2004-ben "I Just Found Out About Love" címmel. A lemezen hallható dalok a swing korszak örökzöldjei, a bonus track pedig mai korszakunk zenéje a Backstreet Boys-tól kölcsönözve, érdekessége pedig, hogy hangulatát, stílusát tekintve beleilleszkedik a jazz világába.
Tracklist:
01 – I Just Found Out About Love
02 – Let's Fall In Love
03 – Besame Mucho
04 – Lullaby Of Birdland
05 – Bye Bye Blackbird
06 – Les Feuilles Mortes
07 – One Note Samba
08 – I Will Wait For You
09 – Here's That Rainy Day
10 – Deed I Do
11 – Everyday
12 – Show Me The Meaning Of Being Lonely
Köszönet thoms01-nek (Naftamusic), az eredeti feltöltésért!
https://zenekucko.com/mimyjufolo
Ha kicsomagolásnál jelszót kér, írd be a Zenekucko szót a megfelelő helyre.
Találatok: 36