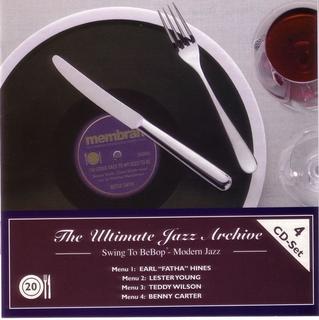 A 
The Ultimate Jazz Archive
 egy öszzesen 168 (!) lemezből álló – tehát igazán átfogónak tekinthető – válogatás, melynek huszadik része a swingtől a bebopig vezet el minket a modern jazz világában. A mai menü:
Earl "Fatha" Hines
,
Lester Young
,
Teddy Wilson
,
Benny Carter
Set 20 – CD 1: 
Earl "Fatha" Hines
Earl Kenneth Hines (1903-1983), amerikai jazz zongorista és zenekarvezető. Kiváló zenész volt, a jazzzongorajáték fejlődésének jelentós figurája, aki 1918-ban kezdte profi karrierjét. 1927-ben Louis Armstronggal fogtak össze, zongorázott, zeneigazgató volt, és Armstrong partnere egy night-clubban, ahol a harmadik tag Zutty Singleton volt. Hines a húszas évek végén egy sor olyan felvételt készített Armstronggal, amelyek klasszikusok lettek: ezek voltak a Hot Five, Hot Seven és Savoy Ballroom Five lemezek, de közöttük volt a korai jazz egyik legünnepeltebb csúcsfelvétele, a "Weather Bird" duettje is. 1964-ben Stanley Dance író New Yorkban szervezett egy koncertsorozatot, és akkor minden megváltozott. Az egymás után következő lemezfelvételek kamatoztatták a koncertek hatalmas sikerét, és ettől kezdve Hines a haláláig állandóan turnézott, és sok lemezfelvételt készített. Hines innovatív zongorastílust vitt a jazzbe, ahol világosan artikulálja a dallamot, amelynek vonalát gyakran jellegzetes tremolója a fúvósjátékosok vibrátójára hasonlít. Mindez odavezet, hogy technikáját "trombitastílus'-nak nevezik. A Hinest példaképül választó zongoristák számát igen nehéz meghatározni: nem túlzás azt állítani, hogy mindazok akik 1927 után jazz-zongorát játszottak valamilyen formában, azon az úton jártak, amelyet ő jelölt ki.
Tracklist:
01 – Angry (1934)
02 – Grand Terrace Shuffle (1939)
03 – Piano Man (1939)
04 – G.T. Stomp (1939)
05 – Father Steps In (1939)
06 – Rosetta (1939)
07 – Boogie Woogie On St. Louis Blues (1939)
08 – Deep Forrest (1939)
09 – Number 19 (1939)
10 – Body And Soul (1940)
11 – Child Of A Disordered Brain (1940)
12 – Tantalizing A Cuban (1940)
13 – Blues In Thirds (1940)
14 – Up Jumped The Devil (1941)
15 – On The Sunny Side Of The Street (1941)
16 – My Melancholy Baby (1941)
17 – Windy City Jive (1941)
18 – The Earl (1941)
19 – Second Balcony Jump (1942)
Set 20 – CD 2: Lester Young
Lester Willis Young (1909-1959) becenevén "Pres" vagy "Prez", amerikai jazz tenor szaxofonista és klarinétos. Zenészcsaládban született, apjától több hangszeren tanult játszani. Gyermekként dobolt a családi zenekarban, de 1928 táján otthagyta ezt az együttest, és átváltott tenorszaxofonra. 1932 tavaszán csatlakozott az Original Blue Devils nevű együtteshez, amely Walter Page vezetése alatt működött. Számos – ma már klasszikusként emlegetett – jazzlemezfelvételen működött közre, kísérte Billie Holidayt, akivel különlegesen jó viszonya maradt egész életük során. 1936-ban csatlakozott Basie-hez, akinél kitartott a következő négy év során. Sok turnét, rádióadást és lemezfelvételt csinált velük. A harmincas évek elején, amikor Youngot szélesebb körben megismerték a jazz világában, a tenorszaxofont mint egy erőteljes, öblöshangú, helyzetéből adódóan vezető hangszert fogták fel. Szakmai tekintélye ellenére Hawkins nem tudta a trombitát domináns szerepétől megfosztani. Csak az akkori idők legjobb ítélőképessége hallgatósága és főleg a fiatalabb zenésztársak hallották meg Lester Young lebegő melodikus stílusában a megkülönböztetően forradalmi felfogást. Az, hogy a tenor elfoglalta azt a helyet, amelyet ma betölt, nagyrészt Lester Young hatásának eredménye, amely sok fiatal zenészt arra ösztönzött, hogy ezen a hangszeren játsszanak vagy új utak, új irányzatok keresésére azokat, akik már játszottak. A bop és a post-bop korszakban tapasztalt fejlődési periódusok legtöbbje annak köszönheti alapjait, hogy Young törődött a melódiával és a sima, fogékony zenei vonalakkal, amelyekkel ő komplex zenei gondolatait gyönyörű, kifejező hangzásokba tudta átvinni.
Tracklist:
01 – Shoe Shine Boy
02 – I Want A Little Girl
03 – Countless Blues
04 – China Boy
05 – Exactly Like You
06 – On The Sunny Side Of The Street
07 – Upright Organ Blues
08 – Who?
09 – Jazz Me Blues
10 – Dickie's Heaven
11 – Lester Leaps In
12 – What's Your Number
13 – Five O'Clock Whistle
14 – Broadway
15 – Afternoon On A Basie-Ite
16 – Sometimes I'm Happy
17 – Just You, Just Me
18 – I Never Knew
19 – Lester Leaps In
20 – I Got Rhythm
Set 20 – CD 3: Teddy Wilson
Theodore Shaw "Teddy" Wilson (1912-1986) amerikai jazz zongorista. Középosztálybeli családban született, tanulmányai után 1929-ben már a zongorára koncentrált, Detroitban lett profi zenész. Erskine Tate, Eddie Mallory, Louis Armstrong és Jimmie Noone zenekarában játszott. A harmincas évek elején Art Tatummal játszott duettben. Wilson korai korszakában Earl Hines befolyása alatt játszott, ám már a harmincas években kialakult egyéni stílusa. Természetétől fogja józan zenész, szólói elegánsak, a jazz-zongora fejlődésének befolyásos alakja. Hatása legközvetlenebbül Nat "King' Cole játékában figyelhető meg. A Billie Holiday klasszikus felvételein való játéka az énekes korai sikerének fontos tényezője volt. A Goodman-trióval és -kvartettel készült felvételei éppoly kiválóak, briliánsam intuitívek, a vezető játékához illőek. Goodman dicsérte is eleget, pedig ez nem volt éppen jellemző szokása. Wilson visszahúzódó volt, akinek nem voltak illúziói zenei rangjáról. Amikor élete vége felé megkérdezték, ki a kedvenc zongoristája, egy félmosollyal azt válaszolta: "Én".
Tracklist:
01 – Somebody Loves Me
02 – I'm Painting The Town Red
03 – All My Life
04 – Why Do I Lie To Myself About You?
05 – The Way You Look Tonight
06 – Sailin'
07 – I've Found A New Baby
08 – Just A Mood
09 – If Dreams Come True
10 – I Got Rhythm
11 – Jumpin' For Joy
12 – Wham (Re-Bop-Boom-Bam)
13 – Liza
14 – 71
15 – China Boy
16 – Indiana
17 – I Want To Be Happy
18 – Rose Room
19 – Just Like A Butterfly
Set 20 – CD 4: Benny Carter
Bennett Lester "Benny" Carter (1907-2003) amerikain jazz alt szaxofonista, klarinétos, trombitás, zeneszerző és zenekarvezető. Gyermekkorában olyan zenész szomszédai voltak, mint Bubber Miley, Freddy Johnson, Rudy Powell, Russell Procope és Bobby Stark. A húszas évek végén az altszaxofonra váltott, és megbízható, tehetséges fiatal zenésznek ismerték meg. 1928-ban Fletcher testvérének, Horace-nak a zenekarában dolgozott, és amikor Horace eltávozott, átvette a zenekar vezetését. Természetétől fogva elegáns fickó volt és zeneileg tökéletes, akit a showmanekre épített világban a közönség elutasított. A zenekar feloszlása után Carter a McKinney's Cotton Pickers zeneigazgatójaként dolgozott, ekkor kezdett komolyabban érdeklődni a hangszerelés iránt. A harmincas évek elején Carter trombitált is. Mind jobban érdekelte a komponálás, és hangszereléseket készített a kor vezető zenekarainak. Carter 1942-ben Kaliforniába utazott, ahol újabb big banddel kísérletezett. Az ötvenes évek elején a jazz At The Philharmonickal kezdett turnézni és számtalan felvételt készített Norman Granz részére. Közben hangszerelt is, és nagyzenekari hátteret biztosított olyan énekesek számára, mint Peggy Lee, Ella Fitzgerald és Mel Tormé. A hetvenes években Carter rendszeresen ellátogatott Japánba, ahol rendkívül népszerű lett és újra felvételeket készített Norman Granzcel. A nyolcvanas években Carter turnézott és lemezfelvételeket készített, számos kompozíciója is született. Játékosként, hangszerei mindegyikén tehetséges, invenciozus és elbűvölő. Altszaxofonon a legnagyobbak egyike.
Tracklist:
01 – Black Bottom
02 – Night Fall
03 – Swinging The Blues
04 – Gloaming
05 – Carry Me Back To Old Virginy
06 – I've Got Two Lips
07 – When Day Is Done
08 – Jingle Bells
09 – Gin And Jive
10 – New Street Swing
11 – There'll Be Some Changes Made
12 – Nagasaki
13 – There's A Small Hotel
14 – I Gotta Go
15 – Bugle Call Rag
16 – I'm In The Mood For Swing
17 – Swingin' At Maida Vale
Külön köszönet baljan-nak e különleges válogatás megosztásáért és az eredeti feltöltésért!
http://tiny.cc/5mjqtz
Találatok: 4