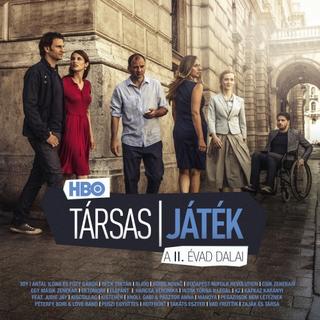 A Társas játék az HBO magyar televíziós sorozata, amely az izraeli When Shall We Kiss? formátumán alapul. Az első évad tizenhárom része 2011. október 23. és 2012. január 8. között került adásba, míg a második évad 2013. október 6-án kezdődött és december 22-én ért véget. A sorozat első évadja többnyire pozitív kritikákat kapott, amelyek főleg a gyér magyar sorozatfelhozatalhoz viszonyítva kiemelkedő minőségűnek találták. A második évad – amely már teljesen magyar forgatókönyvírók és alkotók munkája volt – kritikái főleg a komorabb hangulatra és a gyengébb történetre hívták fel a figyelmet. A sorozat készítésekor különös gondot és nagyobb összeget szántak a részek zenei aláfestésének összeállítására. A dalokat kifejezetten az egyes jelenetekhez választották, így előfordult, hogy 1-1 részlethez 2-3 háttérzenéből végül az a szerzemény maradt, mely szövegében, tempójában, és akár az előadót tekintve is legjobban illeszkedett a cselekményhez.

Tracklist:
CD1:
01 – Karányi feat. Judie Jay: May be your star
02 – Bijou: Tánc
03 – Kakaz: A cipője sárga
04 – Pegazusok Nem Léteznek: Naiva
05 – Kiscsillag: Ha én lennék
06 – Rotfront: Csőváz
07 – Ektomorf: Set me free
08 – Zaják és Társa: Szuper ez az élet
09 – Elefánt: Szex
10 – Kistehén: Ha sírok
11 – Budapest Nufolk Revolution: Indul az élet
12 – Manoya: Rebirth
13 – Vad Fruttik: Egy napra
14 – Boris Kovac: The last waltz in Budapest
CD2:
01 – Intim Torna Illegál: Ébressz fel
02 – Manoya: Shine
03 – Harcsa Veronika: Too early (magyar verzió)
04 – Egy Másik Zenekar: Szomorú szám
05 – Takáts Eszter: Velem mindenki csak szakít
06 – K2: Dugjál engem el
07 – 30Y: Egypár
08 – Fűzy Gábor: Kövek a vízparton
09 – Antal Ilona és Fűzy Gábor: Más ez a szerelem
10 – Csík Zenekar: Szívrablás
11 – Puszi Együttes: Ma este
12 – Beck Zoltán: Nincs mese
13 – Péterfy Bori & Love Band: Futás
14 – Knoll Gabi & Pásztor Anna: Játszanék veled
Külön köszönet baljan-nak a lemezért és az eredeti feltöltésért!
https://zenekucko.com/vatarja2
Ha kicsomagolásnál jelszót kér, írd be a Zenekucko szót a megfelelő helyre.
Találatok: 33