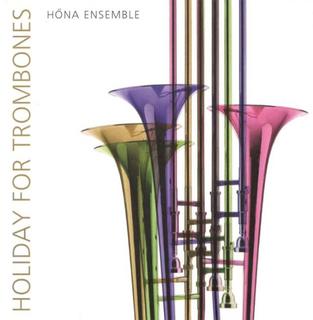 1982-ben összeált négy harsonás kamarázni Balogh Sándor – azóta legendás basszusharsonás – diplomahangversenyére. A felkészülés sikeres volt. Megtetszett négyüknek a hangzás es hasznosítani akarták a befektetett munkát. Így Hőna Gusztáv, aki akkor már a Radiózenekar harsonása volt, rábeszélte a tagokat – Kácsik Jenőt, Cserháti Jánost és Balogh Sándort —, hogy folytassák a kamarazenélést harsonakvartettként.
Hamarosan elterjedt a kvartett híre, koncertlehetóségek és rádiófelvételek következtek. A zeneszerzők is felfigyeltek a remek hangzásra. Új művek születtek. 1983-ban vették fel a Hőna Harsonakvartett nevet, koncerteztek itthon és külföldön. Többször jártak nemzetközi harsonalesztiválokon (Bloomington – USA, Brisbane – Ausztralia), terjesztve az akkor már önálló műsort kitevő kortárs magyar harsonakvartett irodalmat.
A harsona, mint szólisztikus hangszer igazán a jazz viagában kapott jelentősebb szerepet. A Hőna Harsonakvartett is kacsintgatott a könnyebb műfaj felé, időnként kibővült egy ritmusszekcióval (zongora, bőgő, dob), ilyenkor Hőna Együttes néven szerepeltek. Az idő múlt, a tagok szétröppentek, ki tanár lett, ki zenekari tag, de gyakran összejöttek felvételeket készíteni különbözö stúdiókban.
Kesőbb a kvartett új tagokkal folytatta a kamarazenélést. Kialakult a Rádiózenekar új harsona szólama, így adott volt az új Hőna Harsonakvartett. Tagjai: Hőna Gusztáv, Erdei Csaba, Káip Róbert és Csáthy Miklós. Folytatódott a koncertezés, különböző felvételek készítése.
Ez a CD a Hőna Harsonkvartett és Együttes 25. évfordulójára készült, ahol régi és új felvételek váltják egymást. Egy kis kirándulás a könnyebb műfajban, igazi "Holiday for Trombones"!
Tracklist:
01 – Fanfare for trombones
02 – Holiday for trombones
03 – Frippery No. 6
04 – Frippery No. 9
05 – In my solitude
06 – Blue again
07 – Here is that rainy day again
08 – A portrait
09 – Louisiana
10 – Moonlight in Vermont
11 – Ba-dee-doo-dup
12 – Stardust
13 – The shadow of your smile
14 – What are you doing the rest of life?
15 – 10 Dance studies in jazz idiom, No. 1. Slow fox-trot
16 – 10 Dance studies in jazz idiom, No. 3. Ballad style
17 – 10 Dance studies in jazz idiom, No. 2. Beguine style
18 – 10 Dance studies in jazz idiom, No. 9. Blues style
19 – 10 Dance studies in jazz idiom, No. 10. Can-can
20 – Georgia on my mind
21 – Stars fell on Alabama
22 – Carry me back to old Virginny
23 – Indiana
24 – Déli banya
Ez a lemezritkaság baljan barátunk karácsonyi ajándéka volt a Lemezkuckónak. Köszönjük a megosztást és az eredeti feltöltést!
http://tinyurl.com/hwbxxgr
Találatok: 4