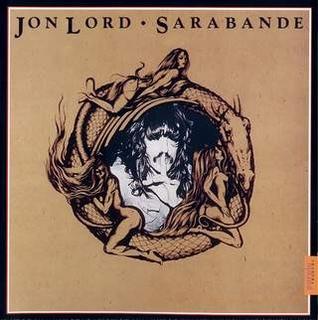 Jon Douglas Lord (Leicester, 1941. június 9. – London, 2012. július 16.) angol Hammond-orgona játékos és zongorista. A rock és a komolyzene özvözésével, a Hammond-orgona játékával szerzett hírnevet. Több klasszikus számban hallhatók virtuóz szólói – sokan "Lord of the Hammond" (szójáték, lefordítva a A Hammond ura) néven emlegetik. Tagja volt a Deep Purple, Whitesnake, Paice, Ashton & Lord, The Artwoods, és Flower Pot Men együtteseknek. A lemezen nagy szenvedélyét, a rock és a klasszikus zene fúzióját valósítja meg, oly módon, hogy egyes zenei részletekben teljes egészében meghagyja a szimfónikus, zenekari hangzást, máshol az elektronikus rockhangszereké a szerep, míg a felvételek többségén mesteri módon párosítja a két hangzásvilágot.
Az album reneszánsz-barokk táncokat értelmez át a XX. század zenei elképzelései szerint. Jon Lord -saját bevallása szerint- kínosan ügyelt a táncok stilisztikai tisztaságára, megpróbálta a lehető legjobban figyelembe venni és betartani a műfajrokra kötelzően jellemző formai szabályokat, a ritmikai, tempóbeli sajátosságokat, a harmóniai, melodikai tulajdonságokat.
Említést érdemel a lemezbotító szimbólikus, művészi megvalósítása is. A rajzon, mint egy keretként, egy ourobouros (a kígyó a saját farkába harap, a folyamatosságot, örökkévalóságot, a biztonságot és az idő örökké való körkörös mozgását szimbolizálja) látható, amelyen három meztelen nő lovagol. Ezzel a zene örökkévalóságára, folyamatos megújulására, illetve a középkori táncok egyértelmű "erotikájára" utal.
Közreműködő zenészek:
Paul Karass – basszusgitár
Jon Lord – Hammond orgona, zongora, szintetizátor Clavinet
Mark Nauseef – ütőhangszerek
Andy Summers – gitár
Pete York – dob
A Philharmonia Hungaria – vezényel: Eberhard Schoener
A lemez tartalma:
01 – Fantasia
02 – Sarabande
03 – Aria
04 – Gigue
05 – Bouree
06 – Pavane
07 – Caprice
08 – Finale
Levin 2012. október 18-i bejegyzésének frissítése.
http://tinyurl.com/z2fgqdd
Találatok: 4