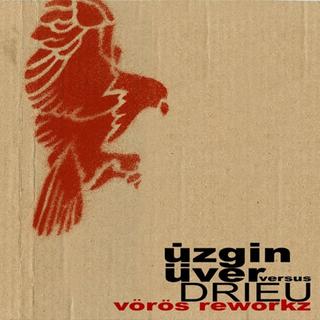 Úzgin Űver Drieu módra!  1991. Tavasz. Kecskemét. Mongol eredetű helységnév, ahol ősi, kultikus temetkezési területet tártak fel. Jelentése köbö vízben szegény terület, szegény aratás. A szó pedig Úzgin Űver. A hazai underground egyik atyja.
A zenekar életében elérkezik 2005. Vörös Reworkz by Olivier Drieu. Hullámpapírból hajtogatott borító. A lemez a Vörös Rébék album remixeiből áll. Olivier Drieu, a francia Personal Data egyik tagja. Drieu nagyon az elektronika elemében van. A jól ismert népi indíttatású Úzgin Űver feelinget trip-hoppal, dubbal és breakbeattel spékelte meg. Építkező lemezről van szó, a meditálós indítástól a keményebb dnb, dub és elektro-rock is szerepet kap rajta.
Farkas Marcsi – (hegedű, ének)
Homoki Péter – (gitár, szintetizátor, programok)
Majoros Gyula – (szaxofon, klarinét, furulya)
Somogyi István – (oboa)
Paizs Miklós – (dob)
Olivier Drieu – (remix)
Dj. Sztepp – (rekord)
Deutsch Gábor – (master)
Tracklist:
01 – Modern Monastery
02 – Dub rébék
03 – Jungle rébék
04 – Vörös remix
05 – Vörös rébék
06 – Gadjo
07 – Rébék Hard House
08 – Temple of Dawn
09 – Cartoon NRV
10 – Falling Angelz
https://tinyurl.com/y7sun6v6
Ha kicsomagoláskor jelszót kér, írd be a Zenekucko szót a megfelelő helyre.
Találatok: 7