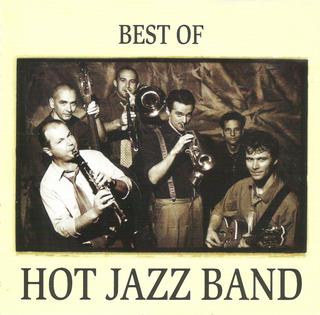 Az 1985-ben alakult Hot Jazz Band, az ország egyik legsikeresebb professzionális zenekarává vált. A 20-as, 30-as, 40-es évek – a korai jazz, a swingkorszak, s a dixieland revival időszaka kel életre tolmácsolásukban. A zenekar az 1994-es Salgótarjáni Dixieland Fesztivál országos versenyének nyertese, majd az ugyanebben az évben Le Havre-ban megrendezett összejövetelnek is ők voltak a győztesei. 1995-ben ismét megnyerték az országos versenyt, majd elsők lettek Európa legnagyobb dixieland versenyén, a több mint ötven zenekart felsorakoztató New Orleans Nemzetközi Jazz Versenyen, Saint Raphaelben. A Magyar Rádió zenei szakértőkből álló zsűrije 1996-ban ´Az év jazzegyüttese´-nek választotta a Hot Jazz Bandet, melyért 1997 áprilisában vehették át az eMeRTon díjat. 1997 júliusában 16 zenekar közül végeztek az élen a Megéve Nemzetközi Jazz Versenyen. Olyan nagyszerű zenészekkel játszottak együtt, mint Eddy Davis, Buddy Wachter, Cynthia Sayer, Mike Vax. Tom Kirkpatrick, Peter Ecklund, Joe Muranyi (USA), Acker Bilk. Kenny Ball (GB), Marcel Zanini, Irakli, Alain Bouchet, Daniel Huck, Marc Laferríére (F) Tom Stuip (NL). 1998-ra Szőke Péter (klarinét, szaxofon) és Kukta Béla (bendzsó) helyett Finok és Szili játszott a zenekarban. A csapaton belüli bendzsós felállás (Hungarian Banjo Kings) virtuóz szólókkal színesíti műsorukat. 1998-ban ismét megnyerték a Louis Armstrong Nemzetközi Jazz Versenyt.
Tracklist:
01 – Sweet Emmaline
02 – Crazy Rhytm
03 – Do You Know What It Means
04 – Doin´ The New Low Down
05 – Az én Babám Egy Fekete Nő
06 – A Bankban Nincsen Betétem
07 – Meseautó
08 – Mézga Géza
09 – I Got Rhythm
10 – The Man I Love
11 – Shall We Dance
12 – Tell Me More
13 – Kár Itt Minden Dumáért
14 – Hamvadó Cigerettavég
15 – My Golden Baby
16 – Este Fess A Pesti Nő
17 – Ön Tetszik Nékem
18 – Avalon
19 – Mood Indigo
20 – Flat Foot Floogie
21 – Nuages
22 – Tiger Rag
https://tinyurl.com/ybxxsu6w
Ha kicsomagoláskor jelszót kér, írd be a Zenekucko szót a megfelelő helyre.
Találatok: 2