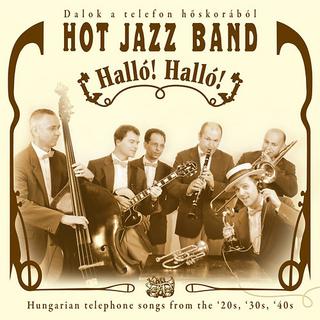 A Hot Jazz Band legújabb lemezének témája a telefon. Az 1920-as, '30-as,
'40-es és '50-es évek magyar szerzeményei közt olyan gyöngyszemek
találhatók, mint a Nem nősülök soha, Halló Irén, Halló, ha ráér, de bónuszdalként a Niagara és az Apu, hogy megy be című kedvenc is szerepel.
A lemez vendége Bolba Éva énekesnő és Bényei Tibor tubaművész. A korhű
hangzás, a színes hangszerelések, virtuóz szólók mellett a bendzsózenekar és a mosódeszka is felbukkan a lemezen. A pályája zenitjén tartó zenekar talán eddigi legjobb cd-jével rukkolt elő, s méltán számíthat nagy sikerre a
lemezvásárlók körében.
Bényei Tamás – trombita, bendzsó, ének
Bera Zsolt – harsona
Fodor László – klarinét, szaxofon
Szili Róbert – gitár, bendzsó
Juhász Zoltán – bőgő
Galbács István – dob, mosódeszka
Tracklist:
01 – Ugye felhív holnap telefonon?
02 – Mondd meg nyíltan
03 – Halló
04 – Halló Irén!
05 – Mily mesés dolog a Niagara vízesés
06 – Hívjon fel éjszaka telefonon
07 – Búcsúzom magától, halló
08 – Halló! Halló!
09 – Nem nősülök soha
10 – Halló! Halló!
11 – Beszéljünk másról
12 – Halló! Ha ráér
13 – Pardon, téves kapcsolás
14 – Apu, hogy megy be
https://tinyurl.com/ycvkoamk
Ha kicsomagoláskor jelszót kér, írd be a Zenekucko szót a megfelelő helyre.
Találatok: 2