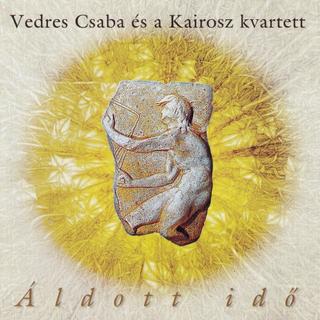 Vedres Csaba és a Kairosz kvartett, röviden Kairosz 2004 novemberében alakult öttagú zenekar. A Kairosz célja hallgatható kortárs ún. "komolyzenei" darabok előadása. Meggyőződésük, hogy a kortárs komolyzene válságából az egyik lehetséges kifelé vezető út a rocknak, mint zenei köznyelvnek a magas kultúrába való felemelése.
Éppen ebből adódik a Kairosz felemás helyzete is. Akik zenéjükre kikapcsolódni, szórakozni szeretnének, nem találják meg a számításukat, hiszen a Kairosz zenéje szórakoztató vagy háttérzenére egyaránt alkalmatlan. Akik viszont "komolyzenére" szeretnének eljönni, szintén csalódnak, hiszen Mozart, Schubert vagy Bartók művei nem szerepelnek a műsorukon.
A CD-n található szerzemények a Kronosz-Kairosz kettôsségében élô ember jellegzetes pillanatait próbálják megragadni. Az észtvesztô rohanást. A mérgezett levegôjû nagyvárosok mindennapjait. A szinte állandósult belsô feszültséget, magányt és elidegenedettséget. S mindezekkel szemben: a kegyelmi idô kiszámíthatatlan, váratlan ránktöréseit. A hirtelen beálló néma csendet. Egy percet, amikor rádöbbenünk: másképp is lehetett volna, sôt, másképp is lehetne… A ragyogást, amikor egy teljesen hétköznapi pillanaton áttûnik egy másik világ üzenete. A percet, amikor egy rég elfelejtett táj, arc, dallam, íz nyomán hirtelen elevenné válik egy röpke idôre egész gyerekkorunk. Egy váratlanul született barátságot, egy elsôre megszeretett helyet, egy valamiért felejthetetlenné vált furcsa pillanatot. A Kairoszt."
Az albumon két feldolgozás is található:
Peter Hammill (Van Der Graaf Generator) Siren Song-ja és a System Of A Down Toxicity című szerzeménye.
Gyermán Júlia – hegedű
Molnár Zsófia – hegedű
Cs. Nagy Tamás – brácsa
Sipos Gábor Gergő – cselló
Vedres Csaba – zongora
Tracklist:
01 – Guerriero
02 – Ragyogás
03 – Toxicity
04 – Áldott idő
05 – Szórakozott szamba
06 – Szirén dal
07 – Zongoraötös I. Allegro Marcato
08 – Zongoraötös II. Adagio Quasi una Fantasia
09 – Zongoraötös III. Giocoso
10 – Zongoraötös IV. Presto
Bónusz:
11 – Blues-Fantázia
12 – Stonehenge
https://tinyurl.com/yaznw68a
Ha kicsomagoláskor jelszót kér, írd be a Zenekucko szót a megfelelő helyre.
Találatok: 6