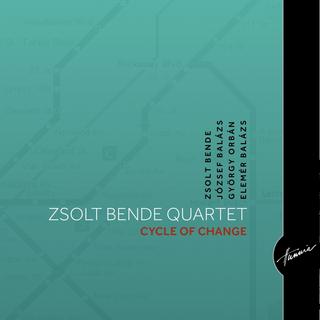 Azokat a jazzmuzsikusokat kedvelem igazán, akik zenéjül által tudnak mesélni életükről, sorsukról. Akik megosztják velünk titkaikat, bepillantást engednek hétköznapjaikba. Akik közel engedik magukhoz az őket figyelő-hallgató embereket. Bende Zsolt abszolút ebbe a kategóriába tartozik. A kivételes tudással rendelkező gitáros a legendás boston-i Berklee-n diplomázott, majd hazatérve a magyar jazz szcéna egyik meghatározó alakjává vált.
Nagy örömömre, most új albummal jelentkezett -"Cycle of Change" címmel-, mely a Hunnia Records gondozásában látott napvilágot. A korongon olyan kiválóságok Bende partnerei, mint Balázs József zongorista, Orbán György bőgős és Balázs Elemér dobos. Hét, a zenekarvezető-gitáros által jegyzett kompozíció hangzik el a CD-n. A címadó dal mellett, a többi téma is Zsolt életének egy-egy szakaszát hívatott képviselni, bemutatni. Vannak ezek között pozitív és negatív szakaszok; Bende mindegyiket bátran és őszintén vállalja a Közönség-Hallgatóság előtt.
A számok rendkívül maiak és frissek, ugyanakkor felidézik, megjelenítik a jazz fősodrását is. Bende Zsolt egy különleges, egyedülálló hidat tudott ácsolni a modern, "contemporary" és a mainstream vonulat között, amelyen nagyszerű társaival kecsesen sétálgat fel s alá. Egyfajta újrakezdés "feeling"-je van a lemeznek, ami által szomorúbb és vidámabb melódiák szállnak felénk, de egyik sem depressziós vagy nyomasztó, annál inkább erővel, energiával teli! A "Cycle of Change" olyan, mint egy jó könyv vagy film, amit újra és újra olvasni, látni akarunk, mert mindig találunk, felfedezünk benne valamit, ami megmelengeti szívünket-lelkünket. Hallgassák, érezzék! ~ Gáspár Károly (jazzma.hu) 
Bende Zsolt – gitár
Balázs József – zongora
Orbán György – bőgő
Balázs Elemér – dob
Tracklist:
01 – Marci's Song
02 – Departure
03 – One for Mo
04 – Hymn
05 – Next Day
06 – Cycle of Change
07 – Baloon
https://tinyurl.com/y7943kq6
Ha kicsomagoláskor jelszót kér, írd be a Zenekucko szót a megfelelő helyre.
Találatok: 5