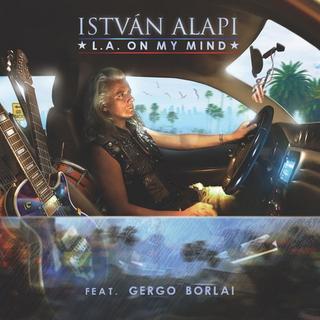 Alapi István két előző, fusion albuma után, melyek közül a niXfactor 2012-ben az év magyar jazzalbuma lett, most egy igazi rock instrumentális albumot készített, a dobosfenomén Borlai Gergő közreműködésével.
Nem csak a gitárt kezeli Alapi István, hanem a basszusgitárt, sőt a billentyűs hangszereket is ugyanő szólaltatja meg! Mostani egyetlen alkotó társa, az évek óta külföldön élő, már-már világklasszis dobos, Borlai Gergő, akivel korábban játszottak együtt igaz, rövid ideig.
Hosszú ideig kellett várni, hogy Alapi István egy igazi rockgitározást tartalmazó önálló lemezzel jelentkezzen. Az L.A. On My Mind egy sokszínű és értékes alkotás, ami a gitármuzsikát kedvelőknek kötelező. Azoknak is erősen ajánlott, akik egy kiváló előadó másik oldalát szeretnék megismerni.
Alapi István – gitár, basszusgitár, billentyűs hangszerek
Borlai Gergő – dob
Tracklist:
01 – L.A. On My Mind
02 – Go Back or Not
03 – When It's Over
04 – Blue Whale
05 – On My Way
06 – Pain of My Soul
07 – Goin' Crazy
08 – Calico
09 – Maybe It's Too Late
https://tinyurl.com/ycl7pn2y
Ha kicsomagoláskor jelszót kér, írd be a Zenekucko szót a megfelelő helyre.
Találatok: 6