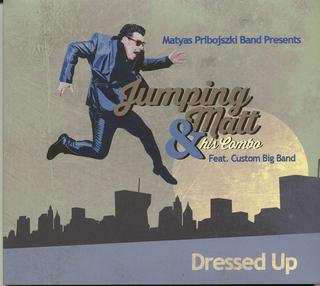 Jumping Matt & His Combo feat. Custom Big Band, vagyis Pribojszki Mátyás zenekara és a Pénzügyőr Big Band legújabb Dressed up című lemeze. A 2018-as albumon tizenkét dal található, amelyből tizenegy korábbi, angol nyelvű, saját szerzemény. A zárószám, a Switchin' in the kitchen pedig egy Big Joe Turner darab feldolgozása, ami már hosszú évek óta szerepel a zenekar repertoárjában, de nagyzenekari, big band hangzásban most rögzítették először.
A lemez összességében egy rendkívül vidám, pozitív hanganyag, úgynevezett West Coast Jump stílust képvisel, amelyben keverednek az autentikus és a kortárs blues elemek, a boogie-woogie, a swing, a rock and roll, mindez finoman megspékelve soul és funky érzésekkel.
Pribojszki Mátyás nemcsak itthon, hanem Európában is az egyik legismertebb szájharmonikás, aki olyan zenészekkel dolgozott már együtt, mint Tom Jones, Bob Margolin, Bill Wyman, Charlie Musselwhite, Lee Oskar. Pályafutása során mindig is arra törekedett, hogy hangszerét, a szájharmonikát újrapozícionálja, és a műfaji határokat átlépve lebontsa a hozzá köthető sztereotípiákat.
Az elmúlt 15 évben zenekarával Pribojszki Mátyás Band néven koncertezett, valamint öt lemezt is készített. Idén februárban azonban a zenekarvezető úgy döntött, hogy a megszokott tagokkal, de új néven Jumping Matt and His Combo-ként folytatják a munkát. Az új zenekarnév a frontember becenevére, valamint a csapat egyedi zenei stílusára utal.
Pribojszki Mátyás a.k.a. Jumping Matt – ének, harmónika
Szász Ferenc – gitár
Molnár Dániel – dob
Czizmadia László – basszusgitár
Tracklist:
01 – Full Time Baby
02 – Love Is Fake
03 – Real Good Man
04 – Wet Lips
05 – Can't Make You Stay
06 – Swingin' All Night Long
07 – Hard Working Man
08 – Zydecola Boogie
09 – I Heard The News
10 – Balaton Boogie
11 – My Little Angel
12 – Switchin' In The Kitchen
https://tinyurl.com/y9otoq92
Találatok: 2